Pulitzer Prize-Winning Poet Jericho Brown's Upcoming Lecture at CPCC – I am pleased to report that the renowned poet Jericho Brown will give a free lecture at CPCC next month. When I first heard this news, I set out to learn more details. I ended up exchanging a series of email messages with Liza Zerkle, who is a member of the literary committee organizing this event, and she agreed to provide me with more information. Here is what she sent to me: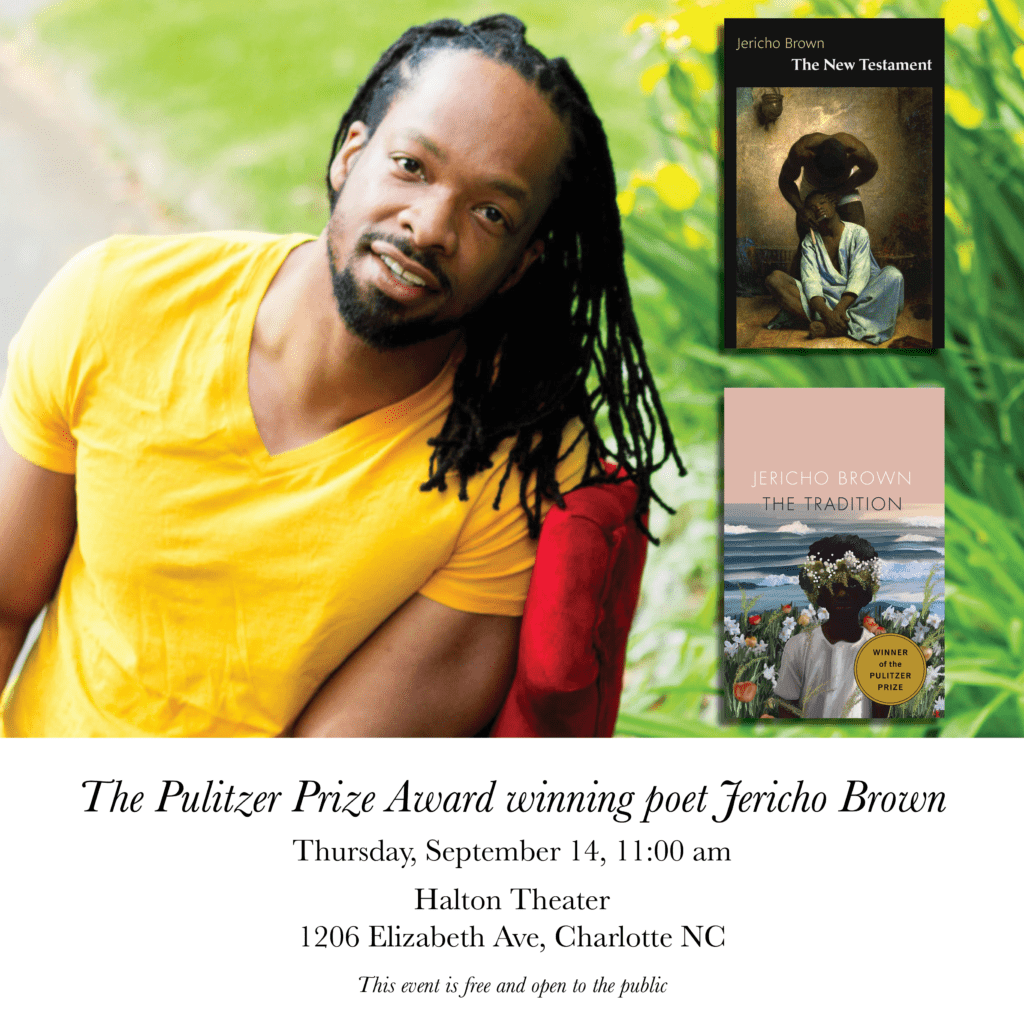 Jericho Brown, author of the poetry collection The Tradition for which he was awarded a Pulitzer Prize, gives the Irene Blair Honeycutt Distinguished Lecture at Central Piedmont Community College. Free and open to the public, this event will be held on the Main Campus in the Dale Halton Theatre at 11 am on Thursday, September 14. Brown directs the Creative Writing Program at Emory University.
Brown's poetry has been published widely, including in such publications as The New York Times, The New Yorker, TIME magazine, and in several volumes of The Best American Poetry. His honors and awards include fellowships from the Guggenheim Foundation and the National Endowment for the Arts, and he is the winner of the Whiting Award. He served as editor for the new anthology How We Do it: Black Writers on Craft, Practice, and Skill. In The Tradition, Brown employs a new poetic form of his own invention called a "duplex" that combines a sonnet, a ghazal, and the blues. Author and poet Claudia Rankine says Brown's poems offer their readers a window into his "devastating genius." For more information about Brown and his poetry, please click on the following link: https://www.jerichobrown.com/
The Irene Blair Honeycutt Distinguished Lectureship, initiated in 2006, honors Irene Blair Honeycutt's role as founder of the Spring Literary Festival at Central Piedmont Community College (which later became the Sensoria Festival). For thirty-seven years, Honeycutt served as a creative writing instructor and impacted the lives of many students. The lectureship recognizes and honors her service to the community by bringing a noted author to give a public lecture.
I thank Lisa for providing the information about this event. I also thank everyone involved in bringing Jericho Brown to Charlotte. Most of all, I thank Irene Blair Honeycutt for her many and varied contributions to Storied Charlotte—it's fitting that this special lecture is named in her honor.