Partnerships — The University's website includes links to recent press releases, and last week one of these releases caught my attention. Titled "Charlotte Teachers Institute Partners with Discovery Place and Gantt Center," this release relates directly to two faculty members in the English Department: Alan Rauch and Paula Connolly. Both Alan and Paula are leading seminars for the Charlotte Teachers Institute (CTI) in 2014, and both are drawing on the resources of Charlotte museums. Alan is leading a seminar on "The Intersections of Science, Technology and Culture," and his seminar will meet at Discovery Place. Paula's seminar is called "Visual Storytelling in Children's and Young Adult Literature," and she is holding her seminar at the Harvey B. Gantt Center for African American Arts and Culture. For more information about these partnerships, please click on the following link: http://publicrelations.uncc.edu/news-events/news-releases/charlotte-teachers-institute-partners-discovery-place-and-gantt-center
Alan and Paula are by no means the only faculty members in the English Department who have partnered with Charlotte-area institutions and organizations. Two other examples that immediately come to mind are Jeffrey Leak and Lil Brannon. Through his work as the Director for the Center for the Study of the New South, Jeffrey often collaborates with the Levine Museum of the New South, and he has held several programs at the Levine Museum. About a year ago, he worked together with the museum's administrators and staff in co-sponsoring a conference. Through her work with the Charlotte Writers Project, Lil has collaborated with a number of Charlotte organizations. Recently Lil received a substantial grant from the National Writing Project to fund a collaborative program involving the Charlotte Writing Project and Discovery Place. Titled "Making STEAM," this program encourages Charlotte-area students to write across numerous disciplines, including science, technology, engineering, arts, and math (STEAM). Through such partnerships, the faculty members in our department have an impact that extends well beyond the boundaries of our campus.
Kudos— As you know, I like to use my Monday Missives to share news about recent accomplishments by members of our department. Here is the latest news:
Brittney Chalmers, one of our graduate students,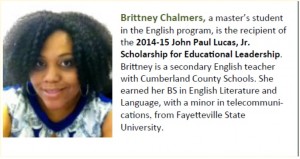 is spotlighted in the Graduate School's newsletter (The Graduate Source) for being the recipient of 2014-15 John Paul Lucas, Jr. Scholarship for Educational Leadership.
Aaron Gwyn's Wynne's War received a rave review from the Chicago Tribune. Here is the link: http://www.chicagotribune.com/features/books/chi-wynnes-war-aaron-gwyn-20140606,0,4346196.story
Jeffrey Leak will be a guest on WFAE's Charlotte Talks on Thursday, June 19. He will talk about his new book Visible Man: The Life of Henry Dumas.
Upcoming Events and Deadlines— Here is a date to keep in mind:
June 21 — Jeffrey Leak will sign copies of Visible Man: The Life of Henry Dumas at Park Road Books at 2:00 pm on Saturday, June 21, 2014.
Quirky Quiz Question — The above mentioned news release about the Charlotte Teachers Institute seminars reminds me that English faculty have led more CTI seminars than the faculty from any other department at UNC Charlotte. Who is the English faculty member who led a CTI seminar in 2013?