It's a mystery to me if Mark Twain really said, "Write what you know." However, I know that this bit of writing advice is often attributed to Twain, and I also know that Sarah Archer and Landis Wade have followed this advice when writing their new novella, Death by Podcasting.  Sarah and Landis (along with Hannah Larrew) are the co-hosts of the popular Charlotte Readers Podcast, where they regularly interview authors.  Sarah and Landis know the world of podcasting inside and out, and they make extensive use of this knowledge in Death by Podcasting.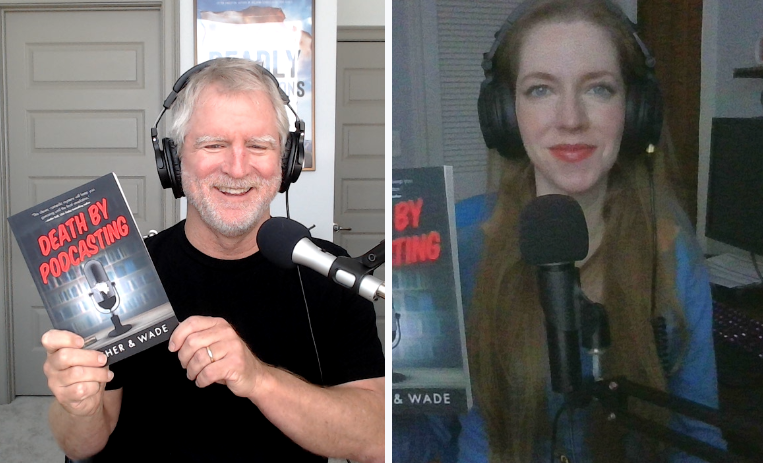 In many ways, Death by Podcasting fits within the sub-genre of the cozy mystery, but instead of taking place in a country estate or a quaint village, this mystery largely takes place in the virtual setting of a podcast. The central characters in Death by Podcasting go by the names of Raspy Fuse and Salty Remarks. Like Sarah and Landis, Raspy and Salty are the co-hosts of a podcast featuring author interviews. A few days before they are scheduled to record a live episode, Raspy and Salty receive a mysterious warning that one of the three authors whom they are scheduled to interview intends to kill them. At first, Raspy and Salty don't take the warning seriously, but they soon learn that threat is real. What follows is a fast-paced and humorous account of their efforts to solve this mystery before it's too late.
I contacted Sarah and Landis and asked them for more information about this mystery. Here is what they sent to me:
As co-hosts on Charlotte Readers Podcast, we thought it would be fun to co-write a mystery involving the intersection of podcasters and writers. We had plenty of inspiration to write a comedic mystery novella about podcasting, writing, and the sometimes-cutthroat world of modern publishing–though thankfully, no real-life murder inspiration.
We came up with a story about two podcasters, Raspy Fuse and Salty Remarks, who receive an anonymous text warning them that one of the authors they're set to interview for their year-end live finale event plans to kill them. They must use their experience reading and writing mysteries to figure out which of the suspects–poet William Z. Wisp, thriller writer Edwin Nocturne, or romance novelist Della Molasses–might have deadly motivations. Along the way, they uncover the secrets connecting these writers to their own podcast team, and to another podcaster who died mysteriously.
This was a fun experiment in co-writing for both of us. In our November 7th episode, we talk about the process of taking turns writing and editing each other's work, and the factors that can make co-writing both easier and harder than writing solo. None of our real-life podcast guests are believed to be murderers, so we plan to continue podcasting, as dangerous as it may.
The book comes out November 14th and will be available in paperback, ebook, and audiobook. We'll be at Park Road Books on November 15th at 7 PM to celebrate the launch. We can't wait to share it with readers and listeners, and hope they enjoy the tongue-in-cheek writing references and Charlotte Readers Podcast Easter eggs sprinkled throughout the story!
I congratulate Sarah and Landis on the publication of Death by Podcasting. I have long thought that Charlotte Readers Podcast is one of Storied Charlotte's treasures, but now I will also think of it as the inspiration for a very entertaining story.