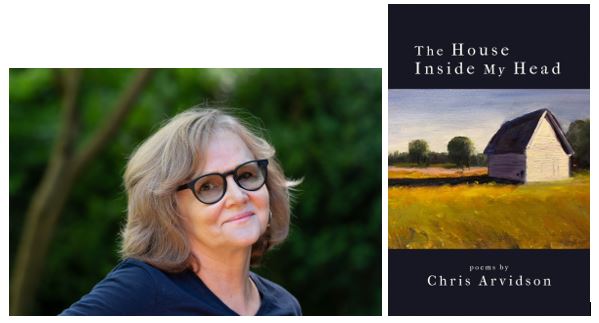 A few years ago, I wrote a Storied Charlotte blog post about Chris Arvidson's anthology titled The Love of Baseball:  Essays by Lifelong Fans.  At the time that I wrote about her baseball anthology, I would have described Chris as a writer of creative nonfiction.  I knew that she covered poetry in the creative writing classes that she regularly teaches at UNC Charlotte, but I wasn't then aware that she had taken an interest in writing poetry.   Over the years, however, I have learned that some writers are hard to pin down, and Chris is such a writer.  I first became aware of Chris's interest in writing poetry when I noticed that she was one of the Charlotte poets featured in the Of Earth and Sky:  Poetry Anthology 2021.  Her career as a poet has taken a big step forward this month with the publication of The House Inside My Head, her first poetry collection.  For more information about this collection, please click the following link:  https://www.finishinglinepress.com/product/the-house-inside-my-head-by-chris-arvidson/
I contacted Chris and asked her about how she came to write The House Inside My Head. Here is what she sent to me:
Poetry has come to me late in my writing life. My MFA and subsequent nonfiction work has been about people, places, baseball…. But when my husband Henry and I moved back to Charlotte, after being gone to such far-flung places as Traverse City, MI, and Pittsburgh, it just started pouring out of me. I blame it on the Charlotte Mecklenburg library uptown, and Charlotte Lit's Pen to Paper writing sessions.
The first week we were back, I started going to the Thursday morning Write Like You Mean It sessions at the library. And then I added in Pen to Paper at Charlotte Lit once a week. Soon the library started a bi-weekly Poetry in Pajamas, and I thought, well, hell, why not? All the prompts all seemed to "prompt" me to poetry.
Then the pandemic hit and that just egged me on even more. We started Zooming and still there was poetry. Before I knew it, I had a pretty big collection of stuff people seemed to like, so on the advice of poetry friends I sent it in to Finishing Line Press' annual chapbook contest. I didn't win, but they asked to publish the chapbook.
In my Introduction to Creative Writing class at UNC Charlotte, the final exam is to submit what you think is your best work for publication. Students decide which pieces of their work over the semester is their best, revise and polish, then research the right place for submission. I could hardly do less.
By the way, every semester, at least one student gets their work published. I like to think about how that final exam could prompt a lifelong habit. One of my students, Luther "Cole" Kissam V, just published a full-length poetry collection titled Have I Told You about My Superpowers. Some of the poems in the collection he wrote in my class. He will be reading from his new book at Park Road Books on Sunday, June 12, 2022, at 3 pm.Is that great or what?
I agree—it is great. I think it's great that both Chris and Cole have poetry books that have come out this month. I think it's great Storied Charlotte is a place where writers such as Chris and Cole can find the support they need to grow as writers.