Given that June is Pride Month, I thought that now would be an especially good time to celebrate the South's LGBTQ literary tradition and that Paula Martinac would be an especially good person to write on this topic. 
Paula is one of Charlotte's leading LGBTQ fiction writers. In recent years, Paula has published three novels about lesbian characters who have Southern connections. The first of these novels, The Ada Decades, came out in 2017. Set in Charlotte, this novel covers the evolving relationship Ada Shook, a school librarian, and Cam Lively, a teacher in the Charlotte public schools. In 2019, Paula published Clio Rising, a novel about a young woman who leaves her home in North Carolina and relocates to New York in 1983 so that she can pursue a career in publishing and because she feels that she can live openly as a lesbian in New York. Paula's most recent novel, Testimony, came out this January. It tells the story of Gen Rider, a professor who teaches at a private college for women in rural Virginia in the early 1960s and who becomes the target of an anti-LGBTQ campaign. For more information about Paula's writings, please click on this link: http://paulamartinac.com/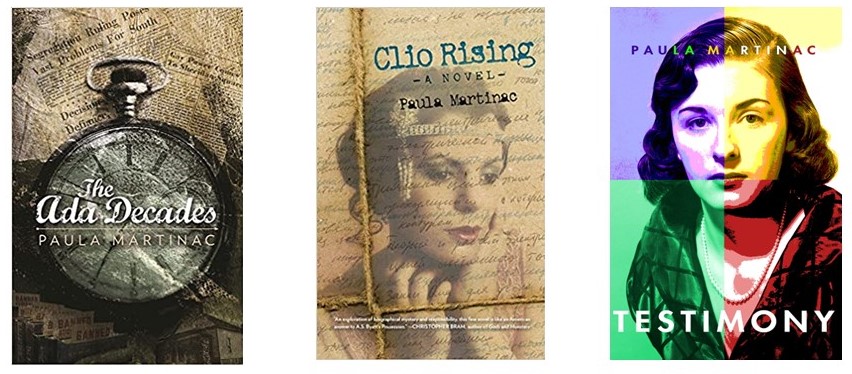 I recently contacted Paula and asked her about how her novels relate to other books by Southern LGBTQ writers. Here is what she sent to me:
The South has a rich LGBTQ literary tradition, including luminaries such as Carson McCullers, Tennessee Williams, Alice Walker, Truman Capote, and Dorothy Allison. Novelist Michael Nava says of writers from this region, "Southern writers have a different and compelling story to tell us about the experience of being queer."
Although I'm originally from the North, I came of age as a writer reading authors like McCullers and Eudora Welty, so living in the South didn't feel "foreign" to me. My novel-in-stories, The Ada Decades, set in Charlotte, came about by roaming through my neighborhood of NoDa and soaking up the atmosphere of the old cotton mill village. In the book, a white school librarian named Ada Shook grapples with the intersections of race, queer sexuality, and class over the course of seven decades from 1947 to 2015. She and her partner, Cam, must be closeted because of their jobs at a local public school, but they also enjoy a fulfilling private life with a circle of close friends.
Writing Ada required a lot of research, and I leaned on works by queer Southern writers. Novelist Jim Grimsley's How I Shed My Skin: Unlearning the Lessons of a Racist Childhood is a powerful memoir about growing up white, poor, and gay in eastern North Carolina during Jim Crow and the early days of school integration. Grimley's gradual realization about how sheltered he'd been from Black children struck a chord with me—I grew up in Pittsburgh in a white suburb and first met a Black girl in high school.
Another Southern queer writer whose work informed mine was Lillian D. Smith (1897-1966). A white lesbian, Smith is best remembered for writing Strange Fruit, a novel about miscegenation. But she also authored a nonfiction book called Killers of the Dream, a keen critique of racism and segregation that is as relevant today as it was in 1949 when it was published.
I also turned again to Carson McCullers, who lived in Charlotte in the late 1930s while she was writing The Heart Is a Lonely Hunter. As a white woman, I learned as much as I could from McCullers about writing characters of color in an authentic way. There's an excellent new book by Jenn Shapland that explores McCullers's queerness, titled My Autobiography of Carson McCullers; it was shortlisted for a National Book Award and won top LGBTQ literary prizes.
For those interested in Southern LGBTQ experience, I'd also recommend these compelling works of fiction:
My thanks go to Paula for her reflections on the Southern LGBTQ literary tradition.  The LGBTQ movement has a political dimension, but it also has a literary side.  Paula reminds us that there are many great literary works that deal with the Southern LGBTQ experience, and one way to celebrate Pride Month is to read these works.  As Paula acknowledges, her novels are part of this larger LGBTQ literary movement/tradition.  Storied Charlotte is a richer place because of the contributions of Paula and other LGBTQ writers.