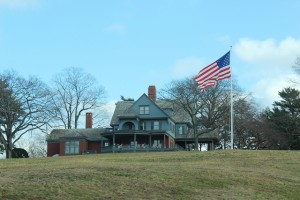 Theodore Roosevelt's Books — I am about to travel to New York City where I will be conducting research on President Theodore Roosevelt's personal library. Roosevelt's books are still located in his home in Long Island. Named Sagamore Hill, Roosevelt's home is now owned and administered by the National Park Service. For the past three and a half years, Sagamore Hill has been closed to the public while a major restoration project has taken place, but the home reopened to the public earlier this month. The Park Curator has agreed to talk with me about the restoration project and Roosevelt's library.
Roosevelt called himself a "book lover," and he devoted part of nearly every day to reading books. He often wrote letters to the authors of his favorite books, and he sometimes invited these authors to visit him. His library reflects his passions, his political causes, and his literary tastes. Through my research, I hope to develop a better understanding of Roosevelt as a reader and collector of books.
Writing Project — Anyone who has been in the English Department during the past few weeks has undoubtedly noticed all of the activity and excitement generated by the participants in the Writing Project. I asked Lil Brannon, the Director of UNC Charlotte's Writing Project, for more information about what the Writing Project's participants are up to this summer. Her response is listed below:
I would be delighted to tell you what all the Writing Project has been doing. You know that the Writing Project was started in l980 by Sam Watson and Leon Gatlin as an English Department Partnership with Charlotte Mecklenburg Schools. Our site (The UNC Charlotte Writing Project) has offered Invitational Summer Institutes (like the one we were doing these last three weeks) every summer since then. We are one of the original sites of the National Writing Project. So for 35 years, the UNC Charlotte Writing Project has grown and prospered.
This summer, the next to last week of June, we held our Partnership School Institute along with our Teacher Research Institute. The UNC Charlotte Writing Project has several partnership schools who send teachers to our campus for professional development in the teaching of writing. The Writing Project Teacher Consultants provide workshops for partnership teachers in a week-long conference-like setting on-campus. This year, we held one-day of the Institute at the Center City Campus so that partnership teachers could learn more about "museum pedagogy," having their students take advantage of the many wonderful museums in downtown Charlotte. We focused attention on Discovery Place, the science museum in downtown Charlotte, with whom we have a partnership. We also had a writing marathon in NoDa, starting out at Amelies with side visits to Makerspace Charlotte and coffee at the Smelly Cat.
The Teacher Research Institute ran in conjunction with the Partnership Institute. Teacher Research brings experienced Writing Project teacher consultants to campus for a week of writing and of reflecting on our practices as teachers of writing. Heather Coffey and I lead this group, many of whom were professional articles, drafting dissertation chapters, rethinking curriculum, and catching up on reading in the professional literature.
Between the two groups we had over 40 teachers that week working in the seminar room, conference room, and at the various coffee shops on campus.
The last week of June through July 16, we hosted 15 area teachers at the Invitational Summer Institute. Each February teachers apply to participate. The Writing Project interviews all the applicants and selects out 15 outstanding teachers to come. The Institute contains three strands: teacher as inquirer (researcher); teacher as leader, and teacher as writer. So the days are filled with writing; with inquiring into questions about the teaching of writing and of engaging the professional conversation about writing; and with these teachers and the Writing Project leaders all conducting teaching demonstrations from their classroom and reflecting on those practices. Once teachers complete the institute they continue with the Writing Project as Teacher Consultants.
During all of these activities, we had meetings of the Education Innovator team of middle grades teachers who worked with the Writing Project this year on "Making Their Worlds," a grant we have with the National Writing Project and the MacArthur Foundation to bring the idea of "make" to middle school English language arts classrooms so that students can do larger projects on social justice issues that matter to them and their communities. We also are working with Discovery Place and the Renaissance West community in Charlotte to plan a CMS K-5 school which will open in 2017 so that "make" and literacy are central to the work of the school. This coming year, the Writing Project and Discovery Place will be hosting maker faires and literacy activities (performance poetry, writing marathons) as the community builds and designs the new elementary school in partnership with us.
So it has been a very busy summer, with lots of people in our Fretwell digs, and it was exciting to be in our English home and feel the energy, support, and excitement of our Department.
Kudos— As you know, I like to use my Monday Missives to share news about recent accomplishments by members of our department. Here is the latest news:
Aaron Gwyn's novel Wynne's War is now available in a handsome paperback edition published by Eamon Dolan/Mariner Books.
Alan Rauch recently presented a paper titled "The Enchanting Life (and Death) of Charles Darwin" at the North American Victorian Studies Association Meeting held in Hawai'i.
Angie Williams recently received the Golden Nugget Award from the Staff Council for "going above and beyond the call of duty and representing UNC Charlotte in a manner in which we can all be proud."
Upcoming Events and Deadlines— Here are some dates to keep in mind:
August 3 — Last day of classes for the second summer session.
August 10 — Grades due for all classes taught during the second summer session.
Quirky Quiz Question — One of Theodore Roosevelt's favorite novels was The Virginian. Who wrote this novel?

Last week's answer: receipts
As Bonnie and Jen well know, recipes have been around for a long time, but the term "recipes" did not come into widespread use until the second half of the 19th century. What term was used before then?