Chance Encounters
— This past
Saturday
I ran into two people whom I had not seen for several years.  One was the former principal of an elementary school that our son attended in the late 1990s, and the other was a former UNC Charlotte faculty member who retired a number of years ago.  After exchanging greetings, both of them asked me if I had retired yet.  I found this question to be a bit unsettling, but I wasn't exactly sure why.  The next day I was in an art supply store looking at picture frames when a woman came up to me and introduced herself.  "You won't remember me," she said, "but I took your Children's Literature class five years ago, and it was one of my favorite classes."  We chatted for a few minutes, and she informed me that she was an accounting major and took my class as an elective.  "I was just trying to get three credits," she said, "but I ended up loving your class.  I will always remember your passion for children's literature."
As I thought about these three chance encounters, I realized that one of the reasons I have no desire to retire is that it would limit my opportunities to share my love of children's literature and to make a difference in students' lives.  I consider myself fortunate that my job and my interests so closely align.  This fall semester marks the beginning of my 32nd year as a member of the English Department, and as always I am looking forward to teaching my children's literature class.  I am also looking forward to working with all of you as we kick off a new academic year.
News from Our Foreign Bureau — This summer I have been reporting on news about members of our department who have been globe trotting this summer.  This week I am featuring Heather Vorhies.  I asked Heather about her European adventures, and she sent me the following report:
I presented "Transatlantic Adaptations of Hugh Blair's Lectures on Rhetoric" at th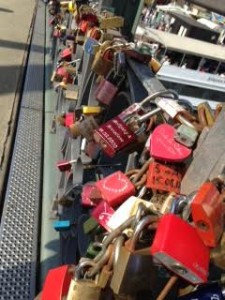 e International Society for the History of Rhetoric in Tubingen, Germany, on July 29. It was the perfect place for the conference–the Rhetoric Department at the Univers
ity of
Tubingen is 500 years old. We didn't get too much other travel in around the confere
nce, but my husband and I did make it to Baden-Baden for the thermal spas (105 degree water coming up from the ground!) and to Frankfurt to walk around the skyscrapers and find locks all over the bridges.  It
seems that couples go to bridges with an inscribed lock to "solidify" their relationship (most had the two names and the date).  The bridges were absolutely COVERED with them! And I was surprised to see that you could get an inscription on a combination lock.
Jen Munroe's Latest Blog Post
.  Jen recently sent me a report about her blog dealing with early modern recipes.  Here is her news:
Here is the link to my latest blog post for the Recipes Project. It deals with the question of "earth" and sustainability in a recipe from a book I've been working with. At the end, you will see that transcription credit goes to Kailan Sindelar, one of our grads. She and Breanne Weber have been working with me this summer (Kailan as part of a DR and Breanne just for fun) to transcribe the manuscript recipe book of Lady Frances Catchmay (digitized from the Wellcome Library in London but on the Folger software system we have partnered with). It's been incredibly difficult work for them, too, as the entire book is in multiple hands, all secretary, which is a difficult handwriting to read, and the hand in this book is especially challenging. So, kudos to them! And the least I could do is give Kailan transcription credit for the recipe I used in my post. Their transcriptions are part of the EMMO (Early Modern Manuscripts Online) database that is housed at the Folger and will be part of the EMROC (Early Modern Recipes Online Collective) database once we parcel the two.  So, here is the link to my blog
:
https://recipes.hypotheses.org/author/jennifermunroe
Kudos
— As you know, I like to use my
Monday
Missives
to share news about recent accomplishments by members of our department.  Here is the latest news:
Andrew Hartley
recently learned that Tor Publishing will bring out
Steeplejack,
the first volume in his new YA fantasy series, in June 2016.  For more information about Andrew's summer activities, please click on the following link: 
http://ajhartley.net/whats-going-on/summer-2015/
Upcoming Events and Deadlines— Here are some dates to keep in mind:
Here is a list of upcoming meetings and events that will take place this month:
–University Convocation     Thursday, August 20    9:00am coffee, 9:30-11 Convocation
 McKnight Hall
–
Day of Convocation 
Monday

, August 24
11:00-5:00pm
(faculty arrive at 10:15)
 Halton Arena
–
CLAS All Faculty Mtg & Breakfast   
Friday, August 28
8:30-10:00am
 Fretwell 100
–
English Department Mtg   Friday, August 28  
11
–
12:15pm
Fretwell 290B
Quirky Quiz Question — Heather Vorhies's account of her recent trip to Germany reminds me that Heather is not the only member of our department who presented a paper at a conference in Germany this summer.  Can you name the other member of our department who presented a paper in Germany this summer?
Last week's answer: Mortimer

In my upcoming presentation at the Waltonwood retirement community, I will talk about the history of Disney's animated movies, including his Mickey Mouse movies.  When Mickey made his first film appearance, he was not called Mickey Mouse.  What was Mickey's original name?