Cymbalism — Over the course of the summer, I have been following the construction of the new Vickie and Gene Johnson Marching Band Center.  This building will house UNC Charlotte's new marching band, and the members of the band have been practicing this summer.  A few days ago, I saw a group of about five or six students playing the cymbals.
This scene brought back memories of my ill-fated and short-lived career as the cymbals player in my small high school.  I played the bassoon back in those days, but during the marching band season, they had to find another instrument for me to play since the bassoon is not an instrument that one can play while marching.  I was a pretty good bassoonist, but the cymbals and I were not made for each other.  One night during a football game, the band was supposed to play the national anthem.  We performed in the bleachers, and right in the middle of our performance, the handle strap on one of the cymbals ripped apart just as I was crashing the cymbals together.  Like Captain America's mighty shield, my cymbal hurdled through the air.  Everyone near me quickly scrambled to get out of the way before they were beheaded by my disc of destruction.  Luckily, only my cymbal and my ego were damaged.
The birth of UNC Charlotte's marching band also reminded me of the famous mu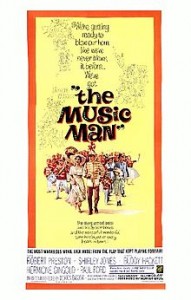 sical The Music Man.  In this musical, as you may remember, a fast-talking salesman sails into a small town and tries to convince the townsfolk that they need a marching band, complete with uniforms that he would be happy to sell them.  Initially, the salesman is just working a scam, but when he meets the town's librarian, the situation starts to change.  She represents the wisdom and knowledge associated with books, the values associated with integrity, and an optimism tied to a deep faith in the fundamental goodness of the human heart.  Madame Librarian, as she is called in one of the musical's songs, transforms the hustler's hullabaloo into something meaningful and memorable for the townsfolk.  In this regard, I think that Madame Librarian and the English Department have a lot in common.  How's that for cymbalism?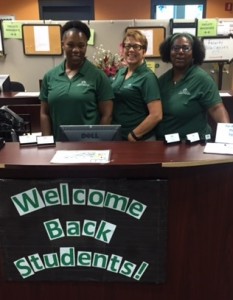 Staff News — All three members of the English Department staff have recently signed up for important training sessions and programs.  Here are the details:
Jennie Mussington – Front Desk Safety and Security training – all day class off campus on Friday, July 17
Monica Alston – Notary Public – all day class at CPCC on Saturday, August 8. Monica is waiting on her official Notary Public number so she can take her oath then the Department will have their very own Notary Public on hand.
Angie Williams – UNC Charlotte Continuing Education Meeting and Event Planning Program – all day class every other Friday and Saturday, September 25 – November 14.
The English Department is fortunate to have such a dedicated staff.
New Part-Time Faculty Members — This fall semester several new part-time faculty members are joining the English Department.  Our new adjunct faculty are:
Julia Intawiwat who is teaching ENGL 2116 Introduction to Technical Communication
Jessica Morton who is teaching ENGL 3100 Approaches to Literature
Coleen Muir who is teaching ENGL 2126 Introduction to Creative Writing

Lance Phillips who is teaching ENGL 2127 Introduction to Poetry Writing
Sam Shapiro who is teaching ENGL 2090 Topics in English: The Films of Hitchcock
Please join me in welcoming these new colleagues to our department.
Upcoming Events and Deadlines— Here are some dates to keep in mind:
–
CLAS All Faculty Mtg & Breakfast   
Friday, August 28 
8:30-10:00am
–
English Department Mtg   Friday, August 28  
11
–
12:15pm
Fretwell 290B
Quirky Quiz Question — Does anybody know the name of the salesman in The Music Man?  For extra credit, does anybody know the name of the librarian?
Last week's answer: Ralf Thiede
Heather Vorhies's account of her recent trip to Germany reminds me that Heather is not the only member of our department who presented a paper at a conference in Germany this summer.  Can you name the other member of our department who presented a paper in Germany this summer?