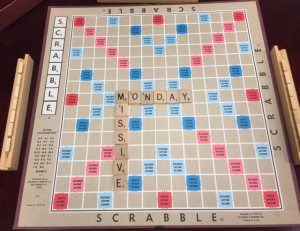 Games and Puzzles — I recently learned that the week of Thanksgiving is also National Games and Puzzles Week. The game I always associate with departments of English is Scrabble. When I was in graduate school, the teaching assistants in the English Department played Scrabble on a weekly basis. They even organized Scrabble tournaments. I remember thinking at the time that I would never meet anybody else who played in Scrabble tournaments, but I was wrong. I heard a rumor that our former colleague Jay Jacoby regularly participates in Scrabble tournaments, so last week I sent him an email and asked him if there is any truth to the rumor. Here is what he had to say:
I'm afraid the Scrabble rumors are in fact true. About three and a half years ago I took an 8-week class in "How to Play Scrabble like a Champ" offered by UNCA's Osher Life-long Learning Institute (a college for seniors at which I often teach and take classes). I have enjoyed playing Scrabble since I was a kid, but this was an introduction to the world of competitive Scrabble, tournament-level play (with timers, rules, cut-throat strategies, etc.). It didn't take long for me to become hooked.
I began playing Scrabble at the local Asheville Club that meets every Sunday from 2-6 and draws between 12-20 participants each week (check out their web site to learn more than you ever wanted to know: www.ashevillescrabble.com). Members range in age from folks in their 20s to those in their 70s, active and retired teachers, doctors, realtors, truffle-farmers, pool-cleaners, etc. I also became one of the 6,000+ members of the North American Scrabble Players Association, and started participating in regional tournaments. Such tournaments are held every week-end across the country (during the next two week-ends there will be tournaments in Lexington, KY, Dallas, Princeton, Brooklyn, Potomac, MD, Elmhurst, IL, Ontario, and British Columbia–number of participants vary: Asheville hosted a tournament a few weeks ago that attracted 80 people; about 125 folks are expected for an early January tournament in New Orleans). National Tournaments, in places like Reno or Buffalo, attract several hundred participants. Prize money is good for those who play well.
Speaking of playing well, I'm sad to say that after over three years and 15 tournaments, I am still pretty mediocre. I have won a few tournaments, but that is rare. Still, I really do enjoy the competition and the camaraderie–I've met tons of people from all over and we are all word freaks.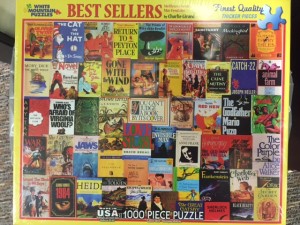 In celebration of National Games and Puzzl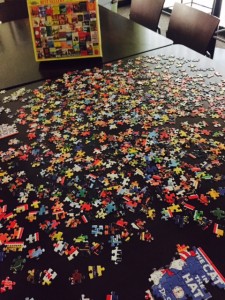 e Week, we have set up a Scrabble game and a book-themed jigsaw puzzle in the faculty/staff lounge. Have at it!
English by the Numbers — At last week's English Department meeting, Aaron Toscano gave a presentation on the numbers of undergraduate students who have declared English as their major or who have signed up for one of the English Department's minors. As Aaron made clear, the numbers of English majors have increased steadily since 2013. Listed below is a snapshot of where we currently stand in terms of English majors and minors:
English Department Majors and Minors
Majors Enrolled Fall 2015
· General: 187· Creative: 85
· Lang & Dig Tech: 61
· Lit & Culture: 73
· Pedagogy: 46
Total (enrolled): 452 (458* as of 11/19/2015)
Minors Enrolled Fall 2015
· Children's Lit: 207
· Diverse Lit: 10
· English: 84
· Linguistics: 30
· Tech/Prof: 41
· HTAS: 8
Kudos— As you know, I like to use my Monday Missives to share news about recent accomplishments by members of our department. Here is the latest news:
Bryn Chancellor recently gave a fiction reading at Winthrop University in Rock Hill, SC, as part of Winthrop's Writers Reading Series.
Katie Hogan presented a paper titled "Complicit: On Being A WGSS Program Director in the Neoliberal University" at the National Women's Studies Association's Annual Conference. The conference was held in Milwaukee, Wisconsin, November 13 to November 15.
Tony Jackson recently published an article titled "Prime Time: Visual Cognition in the Prelude to Citizen Kane" in Style (Winter 2015).
Juan Meneses has recently been notified that his essay "Historical Restoration, Narrative Agency, and Silence in Graham Swift's Waterland" has been accepted for publication in the Journal of Modern Literature.
Quirky Quiz Question — In the game of Scrabble, each letter has a point value. What two letters have the highest point values?
Last week's answer: The Mad Hatter, March Hare, and Dormouse
The high tea at CLGO's recent event was inspired by the mad tea party in Alice's Adventures in Wonderland. In addition to Alice, who else participates in this mad tea party? Here is hint: there are three other participants.