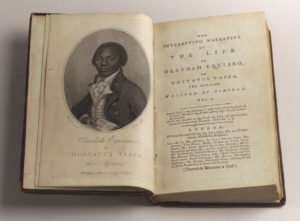 Partnering with the J. Murrey Atkins Library — The Department of English and the Atkins Library have a long history of collaborating on various projects. This spirit of collaboration is clearly reflected in the upcoming special event to celebrate the Atkins Library's Two Millionth Volume. This event will take place in the library on Thursday, November 17th, from 4:30 to 6:30, and it will celebrate the acquisition of a very rare copy of Olaudah Equiano's famous slave narrative, Interesting Narrative of the Life of Olaudah Equiano. Julian Mason (a former chair of our English Department) and his wife, Elsie Mason (a former librarian who worked for many years at Atkins Library), are donating this volume to Atkins Library. During this event our own Paula Connolly will discuss this work from a literary perspective. For more information about this event, please click on the following link: http://library.uncc.edu/RSVP
This spirit of collaboration is also reflected in the Library's current exhibit celebrating the 150th birthday of Beatrix Potter and the 100th birthday of Roald Dahl. Curated by the Special Collections Department of the library, this exhibit is a joint project of the library and the English Department. Valerie Bright, Sarah Minslow and I have provided the library with some of the books and artifacts that are included in this exhibit. If you are interested in seeing this exhibit, it is located on the main floor of the library near the Harry Golden exhibit.
The English Department works in partnership with many university programs and units, but as I see it, the Atkins Library is one of our key partners given that our core missions overlap in so many ways. In a way, the loving relationship between Julian and Elsie Mason parallels the the relationship between the English Department and Atkins. In both cases, it's a perfect match.
Kudos — As you know, I like to use my Monday Missives to share news about recent accomplishments by members of our department. Here is the latest news:
Susan Gardner, one of our emeritus faculty members, was recently appointed an affiliate for the Women's Studies Program at the University of New Hampshire. She has also became involved with the Lakota Language Consortium's Ella Deloria Publication Project.
Kirk Melnikoff gave the invited talk "*As You Like It*: 'much virtue in [the] if'" this past Friday at Queens University.
Quirky Quiz Question — Julian Mason has a long-standing interest in early African American literature. He edited the definitive edition of the works by one of America's first African American poets. Can you name this poet?
Last week's answer: Steven Spielberg
The film Arrival deals with the encounter between extra-terrestrials and humans.  Two other films that deal with such an encounter are E.T. and Close Encounters of the Third Kind.  Who was the director of both of these films?