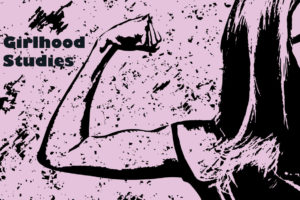 Girlhood Studies — A year or two ago I wrote an article about the education of girls in antebellum America, but I was not sure where to submit it. I shared a draft of the article with Katie Hogan and asked for her feedback and for any suggestions as to where my article might find a home.  Katie provided me with valuable advice and suggested several journals that might be interested in considering my article, including Girlhood Studies:  An Interdisciplinary Journal.  Before receiving this information from Katie, I had not heard of this journal.  In fact, I did not even realize that the field of girlhood studies had achieved a level of recognition and acceptance in academia to support its own scholarly journal.  I ended up publishing my article in the Journal of American Culture, but this experience made me more aware of the field of girlhood studies.  Within the context of academic specialties, girlhood studies is quite new–the journal was founded in 2008.  Nevertheless, several members of our English Department are already teaching and conducting research in this field.  Three notable examples are Katie Hogan, Janaka Lewis, and Paula Eckard.
Katie teaches an interdisciplinary course titled "Girl Cultures." In an email that Katie sent to me about this course, she wrote, "This course uses texts by and about girls' experiences both in the United States and globally.  Focusing on how girls both shape culture and are shaped by it, this course looks at three conflicting characterizations:  "can-do" power girls; girls as consumers; and "at-risk" girls.  These contradictory portrayals of girls and girlhood guide a variety of topics. including the rise of girlhood studies; girls and feminism, girls and social media; girls and sex; riot girls; black girls; queer girls; trans girls; and global girls.  Students read Brown Girl Dreaming (J. Woodson); Redefining Realness (J. Mock); Girls to the Front (S. Marcus); Push Out:  The Criminalization of Black Girls in Schools (M. Morris); Loteria:  A Novel (M. Zambrano); selected fairy tales; and several articles by girlhood scholars, including Ruth Nicole Brown, Mary Celeste Kearney, Lyn Mikel Brown, and Anita Harris."
Janaka's current scholarly project relates directly to the field of girlhood studies.  In an email that Janaka sent to me about this project, she wrote, "My current book project, Freedom to Play, looks at the representation of African American girls in literature and how they learn and have sought liberation through play.   I am concerned specifically with what girls are taught as they become women, beginning in the 19th century with narratives of enslavement but continuing to how they have been taught about their identities through various social movements. From Harriet Jacobs to Zora Neale Hurston to Maya Angelou, and even including newer fictional texts like Everything, Everything, I frame many of my questions about girlhood and freedom with concerns about education, discipline and even criminalization of black girls in institutional settings. This project examines how childhood, and specifically girlhood, are represented in narratives of restriction and freedom and to what end black girls are able to engage and learn through play."
Paula's interest in girlhood studies relates to her larger interest in southern literature and culture.  In an email that Paula sent to me about this interest, she wrote, "My research and teaching have included girlhood studies as a component, particularly as southern girlhood is represented in works by southern women writers.  In my undergraduate courses 'Growing Up Southern,' 'Appalachian Literature and Culture,' and 'Literature of the American South,' as well as in my graduate course 'Contemporary Southern Women Writers,' I include an array of texts that depict girlhood and coming of age in the South during different time periods, ones frequently associated with conflict and change, such as the Civil War, Reconstruction, Civil Rights Era, desegregation, and the aftermath of the Vietnam War. Texts include Ellen Foster by Kaye Gibbons, Oral History, Saving Grace, and On Agate Hill by Lee Smith, In Country by Bobbie Ann Mason, The Invention of Wings and The Secret Life of Bees by Sue Monk Kidd, and stories from Trash by writer Dorothy Allison who won the Lambda Literary Award Best Lesbian Fiction for the collection. In my research, I have written about several of the above authors and their works in articles, conference papers, and book chapters in my two monographs, Maternal Body and Voice in Toni Morrison, Bobbie Ann Mason, and Lee Smith and Thomas Wolfe and Lost Children in Southern Literature."

As these aforementioned examples indicate, our English Department is already establishing itself as a powerhouse in the new field of girlhood studies.  Upon reflection, I think that this development is fitting, for it combines our longstanding strengths in women's and gender studies and children's literature and childhood studies.
It's a Mystery — Susan Riley, a recent graduate of our M.A. program, learned last week that her children's mystery novel titled That Southern Spirit has been accepted for publication by Young Palmetto Books, which is affiliated with the University of South Carolina Press.  Susan initially wrote this mystery as a creative thesis.  Susan is following in the footsteps of Mark de Castrique, who also wrote a mystery for young readers as a creative thesis and went on to get it published.  Titled Death on a Southern Breeze, this mystery launched Mark's career as a successful mystery writer.  Mark has a new mystery coming out this fall titled Hidden Scars, which is set in Asheville uses Black Mountain College as a backdrop.
Kudos— As you know, I like to use my Monday Missives to share news about recent accomplishments by members of our department.  Here is the latest news:
Paula Martinac recently learned that a panel proposal titled "Nothing Can Happen Nowhere: The Craft of Setting in LGBTQ-Themed Fiction" has been accepted for the upcoming  AWP Conference to be held in Tampa.
Matthew Rowney recently presented a paper titled "More Invisible than Visible: The Albatross, the Anthropocene, and Plastic" at the inaugural conference of the Romanticism Association in Strasbourg.
Upcoming Events and Deadlines— Important dates to keep in mind:
Here is a list of upcoming meetings and events that will take place this month.
–University Convocation      Thursday, August 17 
8:30am coffee, 9:30-11 Convocation in McKnight Hall
 –

Classes Begin                     

Monday

, 

August

 21   
Classes begin at 5:00 p.m.
–CLAS All Faculty Mtg    Friday, August 25 
8:00-10:30am in  Fretwell 100
–English Department Mtg   Friday, August 25  
11-12:15pm in Fretwell 290B (English Department Seminar Room)
Quirky Quiz Question —   Since arriving at UNC Charlotte in 2014, Katie Hogan has played a major role in introducing the field of girlhood studies to the English Department.  Does anybody know the name of the university from which Katie received her PhD?  Here's a hint:  Think Garden State.
Last week's answer: Denmark
Tinkertoys were very popular during my childhood, but nowadays the most popular construction toys in the United States are Legos.  However, Legos did not originate in the United States.  Does anybody know what country gave the world Legos?