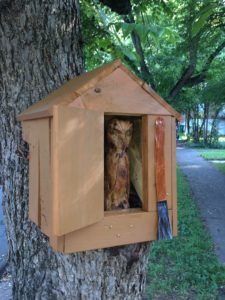 Working and Making — When I think about the meaning of Labor Day, I think about the meaning of work in our daily lives.  One of the most memorable books I have ever read on the meaning of work is Studs Terkel's Working:  People Talk About What They Do All Day and How They Feel About What They Do.  I read this collection of oral history interviews when it first came out in 1974.  I was an undergraduate student at the time, and I read it for one of my classes.
Many of the people featured in this book felt alienated from their jobs, but others took great satisfaction from their work.  A pattern that I noticed is that people who made things or who exercised creativity as part of their jobs tended to feel positively about their work.  The stonemason who was interviewed, for example, stood out for me as a person who found great meaning in his work.  I just re-read this interview, and it still resonates deeply with me.  I especially like what he had to say about the pride he took in the stone buildings he helped create: "I can see what I did the first day I started.  All my work is set right out there in the open, and I can look at it as I go by.  It's something I can see the rest of my life. … That's the work of my hands."
The satisfaction that comes from making things is a pleasure that many contemporary Americans do not experience in their jobs.  However, for those of us who live in the Charlotte region, Labor Day presents us with an opportunity to make something and, in the words of the stonemason, "set it out there in the open."  This opportunity is Yard Art Day, an annual community event founded and organized by Deborah Triplett.  As she explains on her website, "Yard Art Day is a grassroots arts exhibition, curated by the community for the community.  The annual Labor Day event is for anyone and all to celebrate their creative spirit by displaying or performing their works of art in their front yard for the public."
I always participate in Yard Art Day.  This year  I created a scene from Winnie-the-Pooh in which Owl is standing at his front door.  I carved Owl from a piece of pecan wood, and built his porch much as it is depicted in the book, complete with Eeyore's missing tail.  So that's what I did on this Labor Day weekend.  Whatever you have done this weekend, I hope you have made the most of it.  http://www.yardartday.org/yad-2017-highlights/
Kudos — As you know, I like to use my Monday Missives to share news about recent accomplishments by members of our department.  Here is the latest news:
Upcoming Events and Deadlines—Here is a list of upcoming meetings and events that will take place this month:
–

Provost's Awards Reception    Tuesday, 

September 

5       
3:30-5:00 pm 

 Halton Reading Room, Atkins Library

–Bank of America Award Reception and Dinner   Friday, September 8
6:00 pm  Hilton Charlotte Center City
Quirky Quiz Question —  The animal characters in Winnie-the-Pooh are based on toy animals that A. A. Milne's son (Cristopher Robin) played with during his childhood.  These toys are now on display in a public library.  In what city is this library display located?
Last week's answer: Windex
In addition to being interested in the ancient Greeks, the father in 

My Big Fat Greek Wedding

 has a peculiar obsession with a particular product.  What is this product?