From Ireland to Brooklyn — Since Saint Patrick's Day is just around the corner, now seems to be a good time to celebrate Irish-American culture. For many Saint Patrick Day revelers, Irish-American culture has something to do with visiting a pub and consuming green beer, but Irish-Americans have contributed much more to the American scene than convivial pubs and colorful beer. Irish-Americans have made many memorable contributions to America's abundant storehouse of immigrant stories. For the purposes of today's Monday Missive, however, I will limit myself to just two of these stories, both of which are set in Brooklyn, New York. My father grew up in a Jewish neighborhood in Brooklyn, and that's one of the reasons why I am drawn to stories set in Brooklyn.
During my boyhood, I generally read books with boy protagonists, but when I became a teenager, I occasionally read novels featuring girl protagonists, and one such novel was A Tree Grows in Brooklyn by Betty Smith. First published in 1943, this coming-of-age novel tells the story of Francie Nolan, the daughter of an Irish-American father and an Austrian-American mother. However, the family lives in an Irish-American neighborhood during the early years of the twentieth century, and the central character identifies primarily with the Irish side of her family. Francie is an avid reader, and I liked this aspect of her when I first read the book since I, too, liked to lose myself in books. Although she seems at first to be something of an introvert, she has a fighting spirit that will not be squelched despite the squalid living conditions associated with the tenement neighborhood in which she lives. Francie personifies perseverance, a quality that runs through many immigrants' stories.
A few years ago, I revisited the Irish-American immigrant experience that I had first encountered in Betty Smith's novel, but this time the story took the form of a film titled Brooklyn. Released in 2015, Brooklyn is set in the early 1950s. It tells the story of Eilis Lacy, a young woman from a small town in Ireland. Eilis moves to Brooklyn in the hopes of finding a steady job. While in Brooklyn, she meets a young plumber from an Italian-American family, and the two fall in love. For the second half of the film, she is torn between saying yes to a wealthy Irish suitor or saying yes to the Italian-American plumber. For me, this film captures another common dimension of the immigrant experience, which is the blending of immigrant groups. I am not Irish-American, but I have connections to this aspect of the film. Like Eilis, my parents faced some of the problems associated with breaking out of their immigrant communities for the sake of a relationship. My father came from a Polish-Jewish community, and my mother came from a Swedish-Lutheran community. Neither side approved of my parents' relationship. However, my parents chose love over tribalism, and I am the result.
As we celebrate Saint Patrick's Day, I suggest that we also celebrate the fact that America is a land where millions of immigrants from Ireland and many other countries made a future for themselves and in the process learned how to get along with people from other nationalities and cultural backgrounds. The immigrant story is one of America's grand narratives, and it is a narrative that is still unfolding today. According to legend, Saint Patrick was himself an immigrant to Ireland, so it seems fitting to me to redefine Saint Patrick's Day as a day to celebrate all immigrants, both past and present.
Shakespeare in England — Over the spring break, Andrew Hartley took a group of our students to London as part of our Shakespeare in England course. I asked Andrew about the course, and he provided me with the following report:
"The Shakespeare in England course was, again, a great success. In addition to the usual historical sites we generally tour (The Tower of London, Hampton Court Palace, Kenilworth Castle and others), the museums and art galleries, the group got to experience several thrilling productions of Renaissance drama including a candle lit All's Well at the Wanamaker, a blood soaked RSC Duchess of Malfi, an (almost) all black Hamlet, and an electrifying, contemporary Julius Caesar at the Bridge. We did workshops with the Royal Shakespeare Company and at the Globe, the latter allowing the students to rehearse and perform scenes from Hamlet on the actual Globe stage! All told the course was an exhausting but exhilarating experience for all concerned."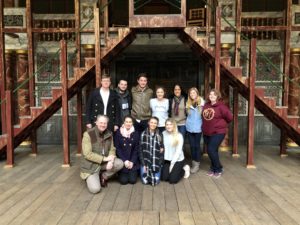 Kudos — As you know, I like to use my Monday Missives to share news about recent accomplishments by members of the English Department. Here is the latest news:
Bryn Chancellor was an invited author at the Tucson Festival of Books, where she presented on three panels; her novel Sycamore also was selected as a Southwest Book of the Year by the Pima County Libraries. In the previous weeks, she also was a guest author at the Bookmarks Moveable Feast in Winston-Salem, NC, and Page Pairings at M. Judson's in Greenville, SC, and she gave readings at Foxtale Book Shoppe in Atlanta and at McIntyre's Books in Pittsboro, NC.
Paula Martinac recently moderated a panel at the AWP Conference titled "'Nothing Happens Nowhere': The Craft of Setting in LGBTQ-Themed Fiction." Also, she recently learned that her novel The Ada Decades was named one of five finalists for the 2018 Ferro-Grumley Literary Award, which honors "culture-driving fiction from LGBT points of view." The winner will be announced April 26 in NYC.
Ralf Thiede presented a paper on March 7 titled "Brain Food from Dr. Seuss: How Cognitive Science Dissolves the Divide between Art and Science" at the University of Antwerp. The conference, "Growing Scientists! – Children's Literature and the Sciences" brought together invited scholars from Poland, Israel, Sweden, the Basque Autonomous Community,and Belgium; Ralf was the only participant from the US.
Upcoming Events and Deadlines — Here is information about an upcoming event:
March 24 — The English Department and the Charlotte Mecklenburg Library are co-sponsoring a screening of To Kill a Mockingbird at the Francis Auditorium in the Main Library (310 N. Tryon Street) on Saturday, March 24, at 2:00 p.m. This event is supported by a grant from the North Carolina Humanities Council.
April 10 — The English Department will be hosting Leslie Howsam, one of the most renowned historians of the book in North America, to give an open talk titled: "Book History: a Niche for Nerds, or Essential Knowledge?" on April 10th at 4:00 pm in the Atkins Library (Halton Room).
Quirky Quiz Question — Brooklyn is one of New York City's official boroughs. How many boroughs are there in New York City? For extra credit, can you name all of the boroughs?
Last week's answer: William Faulkner
One of the films featured in the upcoming film series is "The Reivers."  Do you know the name of the author who wrote the novel upon which this film is based?