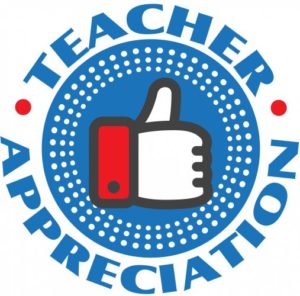 Teacher Appreciation — I had no idea that last week was Teacher Appreciation Week until one of the students in my children's literature class gave me a card at the same time that she handed in her final. In her card, she wrote that since it was Teacher Appreciation Week, she wanted me to know how much she liked the class. She mentioned that she is a marketing major, and she took the class in order to earn three elective credit hours. However, as she went on to explain, the class became her favorite class in part because it reintroduced her to the pleasure of reading novels. She concluded by saying that she wanted to express her appreciation for enriching her education at UNC Charlotte. She then added a postscript in which she said that she intends to keep reading novels even though the class had officially ended.
This student's note prompted me to reflect on the impact that teachers can have on our lives. My life was completely transformed by the English teacher I had in junior high school. I went to a very small and under-funded school in the mountains of Colorado, and the school lacked many of the resources that were available in the other larger schools in the county. As a result, my dyslexia went undiagnosed. Throughout my elementary-school experience, most of my teachers viewed me as being "mildly retarded" as my third-grade teacher once told my mother. It was Mr. Neiman, my seventh-grade English teacher, who recognized my potential despite my learning disability. Because of the extra time he took with me and his constant encouragement, I gradually overcame the reading and writing problems associated with dyslexia. I am an English professor today in part because of the skills and confidence I gained from Mr. Neiman. When I was in college, I visited Mr. Neiman during one of my spring breaks. He was dying from cancer at the time, but he was pleased to hear that I was doing well in college. I expressed my appreciation to him for making such a big difference in my life, and I am glad I took the time to tell him. He died a few months later.
Teacher Appreciation Week ended on Saturday, but I hope that we always appreciate the important role that teachers can play in the lives of students. During the hectic business of grading finals and term papers and posting grades, it is easy to lose sight of what is really important in realm of education. Grades must be recorded and credit hours must be calculated, but education is not really about grades and credit hours. In the end, what counts the most and lasts the longest is the learning that occurs when students and teachers connect.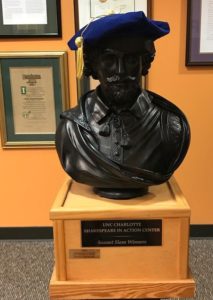 Commencement Report — Last Saturday the College of Liberal Arts and Sciences held its spring commencement ceremony, and for 104 of our students, this ceremony marked their transition from current students to graduates. A total of 17 of our graduate students are listed in the commencement program, and 87 undergraduate students are listed.
I was especially impressed with how many of our BA students fall under the heading of "Graduation with Distinction." Of the 87 students, 14 earned the distinction of Cum Laude (GPA between 3.4-3.7), 8 earned the distinction of Magna Cum Laude (GPA between 3.7-3.9), and 10 earned the distinction of Summa Cum Laude (GPA between 3.9-4.0). This total comes to 32 students. I am very proud of all of our graduating students, but I want to mention by name the 10 students who earned the distinction of Summa Cum Laude. Their names are Desiree Michelle Brown, Briana Lynn Calloway, Jordan Ashlee Costanza, Diana L. Diaz, Hannah M. Edwards, Julia Diane Foster, Jenna Elizabeth Hainlen, Tahira Nicole Huff, Hayley Louise Lawson, and Christina Marie Ramsey.
Kudos — As you know, I like to use my Monday Missives to share news about recent accomplishments by members of the English Department. Here is the latest news:
Bryn Chancellor has been awarded an artist residency at The Hambidge Center for Creative Arts & Sciences in Georgia. She will be a fellow for three weeks in May-June, working on a new novel.
Misha Lazzara, our Robinson scholar and a creative writing student in our MA program, has won a $5,000 summer fellowship to support her work on her thesis.
Upcoming Events and Deadlines — Here is information about upcoming events and deadlines:
May 15 — The Confucius Institute is sponsoring an exhibit of Chinese picture books. The opening of this exhibit will take place at ImaginOn on Tuesday, May 15, from 5:30 to 7:00. I have agreed to participate on a panel discussion during this event. Here is a link with more information: https://exchange.uncc.edu/event/childrens-picture-books-from-china-exhibit-and-opening-night-panel-discussion/
Quirky Quiz Question — UNC Charlotte's commitment to excellent teaching started with Bonnie Cone, the founder of our university. Does anybody know what subject Bonnie Cone taught?
Last week's answer: Andrew Hart
Andrew Hartley's new thriller titled The Lies That Bind Us is published under a new pen name.  What pen name is listed on the title of this novel?