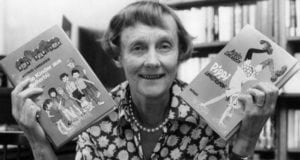 Visiting Pippi Longstocking — When this Monday Missive shows up in your inbox, I will be in Vimmerby, Sweden, doing research related to Astrid Lindgren, the author of Pippi Longstocking. In preparing for this trip, I come to realize that Lindgren holds a very prominent position in contemporary Swedish society.  There are numerous cites in Sweden where visitors can learn more about Lindgren and her novels about Pippi Longstocking.  I am focusing my trip on Astrid Lindgren's World, which is located in Lindgren's native city of Vimmerby.  However, visitors can also go to museums and attractions elsewhere in Sweden that have Lindgren connections.  Lindgren and Pippi Longstocking also show up in the major guidebooks, tourist information websites, and general publications about Sweden.
It seems to me that the character of Pippi Longstocking plays a role in Swedish culture that is similar to the role that Tom Sawyer plays in the popular culture of the American Midwest.  In fact, Pippi and Tom share many of the same traits.  They both are prone to exaggeration.  They both love to engage in pretend play, and they both have an irreverent attitude toward adult authority.
The similarities between Pippi and Tom might help explain why Pippi appeals to so many American children. She is just one of a handful of characters from 20th-century European children's literature to be fully embraced by American readers, including the boy version of me.  I read the Pippi Longstocking books during my childhood, and I thoroughly enjoyed them.  Needless to say, this trip to Sweden is not just a research trip for me; it is also providing me with an opportunity to pay a visit to my old friend Pippi.
Kudos  — As you know, I like to use my Monday Missives to share news about recent accomplishments by members of the English Department.  Here is the latest news:
Sarah Minslow received a Certificate of Merit for Excellence in Advising in the New Advisor category from the National Academic Advising Association in Charleston, SC, at the Regional Conference on Tuesday, May 29.
Lori Beth Johnson, a recent graduate of our MA program, just sold her debut novel to Razorbill at Penguin.  Here is a link with more information:
https://www.publishersweekly.com/pw/by-topic/childrens/childrens-industry-news/article/77030-rights-report-week-of-may-28-2018.html
Daniel Shealy recently presented a paper titled "'Wedding Marches': Alcott, Marriage and the Newness of Little Women" at the American Literature Association Conference held in San Francisco.
Heather Vorhies recently attended the Thompson Faculty Write Program at Duke University. While there, she worked on an article on physiological psychology and style in Hugh Blair's Lectures on Belles Rhetoric and an article on medical communication in the early American republic.
Quirky Quiz Question —  Astrid Lindgren grew up in Vimmerby, Sweden, but she spent most of her adult life in the capital of Sweden.  What is the capital of Sweden?
Last week's answer: Steven Spielberg
For people who want to learn more about D-Day, I recommend two excellent films:  The Longest Day and Saving Private Ryan.  Does anybody know the name of the person who directed Saving Private Ryan?