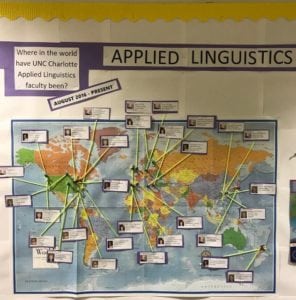 Linguists on the Loose — It is sometimes difficult to keep track of the whereabouts of the linguists in our English Department, for they are often trotting around the globe, presenting papers at various international conferences.  There is, however, one person who has made it her business to monitor and report on the professional travels of these footloose faculty members, and that person in Liz Miller, who herself is something of a globetrotter.  Much like Winston Churchill, who followed troop movements by putting pins in maps, Liz uses a bulletin board, a world map, thumbtacks, and yarn to keep track of where our linguists have been giving their presentations.
To see Liz's amazing bulletin board, you don't have to go to London and tour Churchill's War Room.  You just need to go through the main entrance of the English Department, turn left down the first hallway, and keep a lookout for the bulletin board on your right that is marked "Applied Linguistics."  My guess is that they use the word "applied" because they all have applied for the new "Global Entry" system that is so popular with international travelers, but I am not sure if that's true.
What I do know is true is that next to the "Applied Linguistics" label there is a smaller label that reads, "Where in the world have UNC Charlotte applied linguistics faculty been?"  The phrasing of this question reminds me of another globetrotter, the famous PBS character Carmen Sandiego.   I contacted Liz to learn more about her bulletin board and see if there is some secret connection between our applied linguists and the elusive Carmen Sandiego.   Here is her response:
In Summer 2017, I decided that the linguists' bulletin board was badly in need of an update and thought that it could serve as a site for letting students and other visitors to the department learn about some of the work we linguistics professors do outside the classroom. Students often don't realize the
international impact of the English Department, and the linguists–like all professors in the department–contribute to that through their participation in international academic conferences. Drawing on the title for the 1990s TV game show for children Where in the World Is Carmen Sandiego?, I decided to make a bulletin board with the title "Where in the World have the UNC Charlotte Applied Linguists been." (I know, not nearly as catchy!) With the help of a world map and some yellow yarn, I was able to create a visual representation of the linguists' far-reaching conference activity from Fall 2016 to the present. You will now find tags on the map to Athens, Helsinki, Shanghai, and Toronto among many other domestic and international cities.
As Liz's bulletin board demonstrates, our linguists are very much engaged in international linguistics organizations and professional associations.  This record of international engagement is one of the reasons why our linguistics program has such an excellent reputation around the world.
The Child in Southern Literature and Film Update — Sarah Minslow, Consuelo Salas, Amy Arnott (recent MA graduate), and Savannah Woodell (English major) facilitated a book club on Saturday at ImaginOn as part of the NC Humanities Council funded project The Child in Southern Literature and Film. The group includes 13 middle school students from CMS. They discussed endangered species in the Southeastern United States and how kids can help protect them in relation to Carl Hiaasen's novel Scat, which is set in the Florida everglades.
Kudos  — As you know, I like to use my Monday Missives to share news about recent accomplishments by members of the English Department.  Here is the latest news:
Dina Schiff Massachi, a graduate of our MA program, recently published an article titled "Connecting Baum and Gilman:  Matilda Gage and Her Influence on Oz and Herland" in the Journal of American Culture.  
Quirky Quiz Question —  The character Carmen Sandiego has appeared in several computer games and television programs.  In one of the television programs, her voice is provided by one of only twelve performers to win all four of the biggest awards in show business (an Emmy, a Grammy, an Oscar, and a Tony, which is known collectively as the EGOT).  This performer is most famous for playing the role of Anita in West Side Story.  Can you name this performer?
Last week's answer: Heroes aren't hard to find…
Does anybody know the name of the comic book store that sponsors HeroesCon?