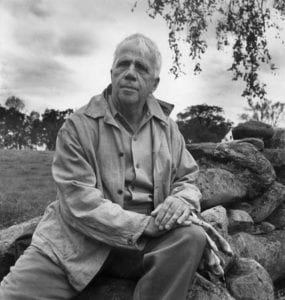 October and Robert Frost — As I was raking the leaves in our backyard on Sunday morning in preparation for the English Department's fall party, I suddenly flashed on Robert Frost's poem "October."   The opening lines of this poem read:
O hushed October morning mild,
Thy leaves have ripened to the fall;
Tomorrow's wind, if it be wild,
Should waste them all.
Ever since my days at Franconia College, I have had an interest in Frost's poetry in part because of Frost's connections to the town of Franconia, New Hampshire.  Frost purchased a farmhouse outside of Franconia in 1915 and lived there until 1920.  Even after Frost moved, he kept the house and often spent his summers there.
When I lived in Franconia, the Frost property came on the market, and the citizens of the town initiated a campaign for the town to purchase and preserve the property.  I went to several of the meetings where this idea was being discussed, and I remember being thrilled when the town purchased the property in 1976 and turned it into a museum and poetry center called The Frost Place.  For more information about The Frost Place, please click on this link: https://frostplace.org
At the time it seemed like everybody in Franconia, including me, was quoting lines from Frost's poems.  We thought of Frost as our poet, our man of letters, our favorite former resident of our historic New England town.  Even now, I am proud of the town of Franconia for rallying behind a poet.  I cannot think of any other town that owns and operates a poetry center.
What appeals to me the most about Frost's poetry is the way he captures the rhythms of nature and the pulse of place.  His poems celebrate the subtle ways in which nature and places shape our day-to-day lives.  For me, Frost's poetry resonates most strongly when I am outdoors, perhaps with a rake in my hand, leaves fluttering around my head, and a sense that our backyard works pretty well as my own Frost place.
October Sky — The Fall Film Series of the NC Humanities Council grant funded project, The Child in Southern Literature and Film, begins today at 5pm in the Student Union Theater. October Sky, a film in which teens in West Virginia start building rockets following the launch of Sputnik, will be screened and discussed. Everyone is invited to attend. The other films in this series include Night of the Hunter on November 28 and Remember the Titans on December 5.
Kudos  — As you know, I like to use my Monday Missives to share news about recent accomplishments by members of the English Department.  Here is the latest news:
Juan Meneses was recently interviewed by The Massachusetts Review. The interview is available here: http://www.massreview.org/node/7159
Sam Shapiro recently published a review of The Big Fella: Babe Ruth and the World He Created in the Raleigh News & Observer. Here is the link:  https://www.newsobserver.com/entertainment/books/article219636675.html
Upcoming Events and Meetings — Here is a list of upcoming events and meetings:
October 31 — Balaka Basu will deliver a talk titled "Learning from the Harry Potter Generation" on October 31 at 2pm in the Dale Halton Room of the Atkins Library.
Quirky Quiz Question — When Robert Frost was 86, he read a poem at the inauguration of a President.  What is the name of this President?
Last week's answer: CLAS Associate Dean Greg Weeks
The National Hispanic Heritage Month focuses mostly on cultural topics, but it also has connections to Latin American politics.  For those interested in keeping up to date on Latin American politics, they should check out the weekly blog on this topic that is written by a UNC Charlotte faculty member/administrator.  What is the name of the person who writes this Latin American Politics Blog?