Come and Sit for a Spell (or a Potion) — One of the reasons I like Halloween so much is that it harks back to a time when children knew all of their neighbors and felt free to visit them–a time when people sat on their front porches and invited passersby to sit on the porch swing for a spell.  However, with the rise of the suburban ranch house, the sociable front porch has given way to the private back patio or deck, and this change in domestic architecture has altered the ways in which neighbors interact.  Nowadays, many children hardly know their neighbors, and they certainly don't feel free to ring their neighbors' doorbells and ask for a treat–except for on Halloween.  On Halloween, we give ourselves permission to open our doors to our neighbors, to play, and to not take ourselves too seriously even if it's just for a day.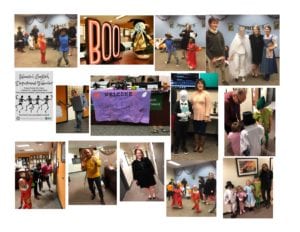 I am pleased to report that the convivial spirit of Halloween pervaded the English Department last Friday thanks to the efforts of the students in Sigma Tau Delta, the English Graduate Student Association, and the Children's Literature Graduate Organization.  These students held their second annual Haunted English Department Take Over on Friday, October 26, from 4:00 to 8:00 pm, and it was a smash hit.  We flung open the front doors of the English Department, and lots of students and children showed up in costumes.  A number of faculty and staff members, including me, opened our office doors to trick-or-treaters.  The student organizers decorated the department, held a costume contest, and set up Halloween-related craft projects.  They showed a scary movie and provided an abundance of pizza and other tasty snacks.  Everyone who participated had a great time.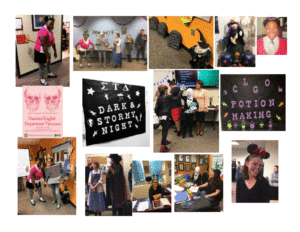 I had to leave around 6:00, but the English Department was still rollicking when I headed home.  Seeing so many children, students, faculty, and staff members all having fun together, I concluded, as I drove home, that our English Department is not just an academic unit.  For many of us, it also functions as a community or a neighborhood of sorts.  If it's haunted, I suspect that it's haunted by friendly spirits who just want to sit for a spell and enjoy the convivial company.
Personally Speaking Dates — We have confirmed the dates next semester for not one but two English Department faculty who will be discussing their books at Personally Speaking:
Janaka Lewis will talk about Freedom Narratives of African American Women: A Study of 19th Century Writings on Tuesday, Jan. 29, at UNC Charlotte Center Center; Bryn Chancellor will talk about her novel, Sycamore, on Tuesday, Mar. 26, also at Center City. (The second Personally Speaking of the season is from political scientist Mary Layton Atkinson — Combative Politics, on Nov. 1, and a fifth presentation, historian Karen Cox's Goat Castle is scheduled for Tuesday, Feb. 19.). You can RSVP for Janaka and Bryn, as well as the other Personally Speaking events, by clicking on the author names above.
Kudos  — As you know, I like to use my Monday Missives to share news about recent accomplishments by members of the English Department.  Here is the latest news:
Melissa Goodnight, a Spring 2018 MA graduate, published her personal essay "Doll" in Mud Season Review. http://mudseasonreview.com/ The essay was part of Poor-Branded Women, her creative thesis.
Joan Mullin along with Jan Rieman recently presented a paper titled "A Report on a Longitudinal Study of Student Writing Transfer" at ALES, the Latin American association for writing studies. The ALES Conference took place in Santiago, Chile.
Matthew Rowney recently delivered a paper titled  "'Lin'd with Moss': Clare's Rhizomatic Poetics" at the International Conference on Romanticism in Greenville, SC.
Upcoming Events and Meetings — Here is a list of upcoming events and meetings:
October 31 — Balaka Basu will deliver a talk titled "Learning from the Harry Potter Generation" on October 31 at 2pm in the Dale Halton Room of the Atkins Library.  For more information, please click on the following link:  https://exchange.uncc.edu/event/celebrating-20-years-of-harry-potter/
November 2-4 — The Department of English is a sponsor of the 2018 North Carolina Writers' Network's Fall Conference, held in Charlotte Nov. 2-4 at the Hilton Charlotte University Place. Both Paula Martinac and Bryn Chancellor are teaching workshops, including a conference opener hosted in Fretwell.  For more conference information, please click on the following link: https://ncwriters.org/index.php/programs-and-services/conferences/9786-fc18
November 3 — Distinguished Shakespeare scholar Peter Holland will delver a presentation titled "Forgiving and Forgetting: Shakespeare and Power" on Saturday, November 3, in the Choir Room in Robinson Hall at 6:00 pm.  The presentation will take place just prior to Saturday's Twelfth Night performance.
Quirky Quiz Question — During the costume contest at the Haunted English Department Takeover, someone who dressed up like a wind-up doll won one of the prizes.  Who wore this winning costume?
Last week's answer: John F. Kennedy
When Robert Frost was 86, he read a poem at the inauguration of a President.  What is the name of this President?