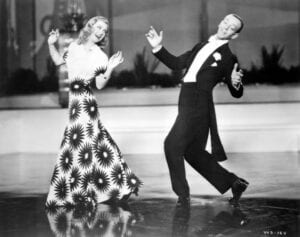 Shall We Dance — Fred Astaire and Ginger Rogers were both magnificent dancers on their own, but when they danced together they created cinematic magic.  One of the ten films that they did together was Shall We Dance, which came out in 1937.  I watched this film several years ago on my return flight after giving a talk at the National University of Singapore. The airline offered a whole array of old musicals, and I watched one after another.  I saw Shall We Dance on a tiny screen with the sound coming through the cheap earbuds that airlines provide on transoceanic flights, and yet I was still swept away by the power of Astaire and Rogers's performance.  When the two of them appeared together on the screen, they seemed to engage in conversations just through their movements.   As dance partners, each augmented the performance of the other.  By lifting each other up, they succeeded in reaching heights that neither could reach as solo dancers.
Like Astaire and Rogers, our English Department excels when it collaborates with partners.  In recent years, the department has had the good fortune to dance with some wonderful partners, both in the Charlotte community and the campus community.  Two of our most frequent dance partners are the Charlotte Mecklenburg Library and the UNC Charlotte Botanical Gardens, and both of them are on our dance card this month.
On Wednesday, April 10, our English Department and the Charlotte Mecklenburg Library will co-sponsor a production titled "Challenging the Good Ole Ways:  Exploring Southern Childhood Narratives."  The production will take place in the Francis Auditorium of the Main Library of the Charlotte Mecklenburg Library from 6:00 p.m. to 7:45 p.m. The production will feature twenty of our students who will perform a series of scenes and skits that reflect their inquiry into the unique experiences of Southern childhood.  The students will be joined by Ashley Hanson, a 2018 Obama Foundation Fellow, and actress Dame Jasmine Hughes from Placebase Productions.  Sarah Minslow, Henry Doss, and Sam Shapiro are the key organizers of this event.  This production is supported by a grant from the NC Humanities Council.
On Tuesday, April 23, our English Department and the UNC Charlotte Botanical Gardens will co-sponsor an event titled "Gardens and Verses:  An Earth Day Celebration."  The event will take place in the Botanical Gardens from 11:30 a.m. to 1:30 p.m.  The event will feature poetry readings about nature, on-site writing opportunities, and games all in celebration of the relationship between gardens and language.  Jen Munroe and Matt Rowney from the English Department and Jeff Gillman from the Botanical Gardens are the key organizers of this event.
As these two upcoming events demonstrate, the reach of our English Department is far greater because of our partnerships.  Our willingness to collaborate with various partners is a trait of the department that I just take for granted.  In a sense, the title of the film Shall We Dance captures this trait.  The phrasing suggests that it is a question, but there is no question mark.  The title is more of a statement than a question.  Perhaps the film should have been titled We Shall Dance.  In all of the films starring Astaire and Rogers there is no question that they will be dance partners  The same can be said about our department's willingness to collaborate with our dance partners.
Kudos  — As you know, I like to use my Monday Missives to share news about recent accomplishments by members of the English Department.  Here is the latest news:
Meghan Barnes led a workshop titled "Writing on the Fringes" at the NC English Teachers Association Spring Symposium in Statesville this past Saturday.
Pilar Blitvich recently co-organized the inaugural Radical Right Research International Network (RIN) Workshop which was held at Swansea University. The purpose of the workshop was to bring together a network of researchers and stakeholders interested in the study of extreme far right groups from an interdisciplinary and global perspective.  This invitation-only event hosted scholars from Europe, Australasia, North America, and South America.  The panels consisted of papers which examined current trends within the radical right-wing scene, insights into current online/offline activities, hate speech and social media, as well as identity constructions of the far right.  Besides co-organizing the event, Pilar also presented a co-authored paper titled "Radical Right Women in Greece and Spain."
Cara DeLoach, a recent graduate of our M.A. with a concentration in literature, will be entering the Ph.D. in Leadership and Policy Studies program at Vanderbilt University in the fall, with a full funding package.
Upcoming Events and Meetings — Here is a list of upcoming events and deadlines:
April 10 — The last EMPS (Early Modern Paleography Society) meeting of the year will take place Weds, April 10, 3:30-5pm in the Conference Room (280C).
April 10 — A group of twenty of our students will participate in a performance titled "Challenging the Good Ole Ways: Exploring Southern Childhood Narratives" on Wednesday, April 10, 2019, in the Francis Auditorium of the Main Library of the Charlotte Mecklenburg Library from 6:00 p.m. to 7:30 p.m. This "Performance Narrative" is part of a grant from the NC Humanities Council.
Quirky Quiz Question — One of Ginger Rogers's best friends ran an entertainment company called Desilu Productions.  What is the name of this friend of Ginger Rogers?
Last week's answer: Batman
What crime-fighting icon of American popular culture turned eighty this week?