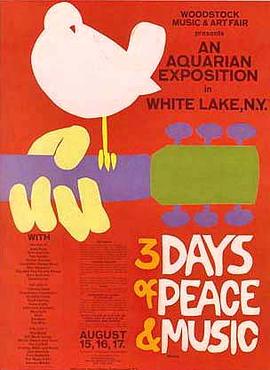 Woodstock and the Counterculture Movement — Fifty years ago this month, nearly 500,000 young people converged on a dairy farm in White Lake, New York, to participate in the music festival known as Woodstock. Promoted as "3 Days of Peace & Music," Woodstock featured many of the most prominent rock and folk-rock stars of the time, including the following: Joan Baez; The Band; Blood, Sweat and Tears; Creedence Clearwater Revival; Crosby, Stills, Nash & Young; The Grateful Dead; Arlo Guthrie; Jimi Hendrix; Jefferson Airplane; Janis Joplin; Melanie; Santana; Ravi Shankar; Sly and the Family Stone; and The Who. Woodstock stands out for the remarkable array of talent that performed for one of the largest and most enthusiastic audiences in the history of rock 'n' roll concerts.
Woodstock, however, was much more than a music festival. It became a defining moment in the history of the counterculture movement of the late 1960s and early '70s. Not long after the festival, the term Woodstock Generation came into use. Although I was still in high school when Woodstock occurred, I identified with the Woodstock Generation. Not only did I listen to the musicians that performed at Woodstock, but I also took a strong interest in the literary side of the counterculture movement.
During my high school and college years, I read a number of books that are now associated with the counterculture movement. I remember, for example, reading Tom Wolfe's The Electric Kool-Aid Acid Test a year or two after it came out in 1968. I wrote a paper on this book for a high school English class, but before I could hand in the paper, I had to provide my teacher with proof that I had my parents' permission to read the book because of the book's drug references.
In preparing to write this Monday Missive, I tired to remember all of the counterculture books I read during my hippie days. Here is a partial list, which I have arranged chronologically in terms of when the books first appeared: Soul on Ice (1968) by Eldridge Cleaver; Slouching Toward Bethlehem (1968) by Joan Didion; The Electric Kool-Aid Acid Test (1968) by Tom Wolfe; I Know Why the Caged Bird Sings (1969) by Maya Angelou; Portnoy's Complaint (1969) by Philip Roth; Slaughterhouse-Five (1969) by Kurt Vonnegut; Fear and Loathing in Las Vegas (1972) by Hunter S. Thompson; Fear of Flying (1973) by Erica Jong; and If Beale Street Could Talk (1974) by James Baldwin. Although these books deal with very diverse topics, they all question prevailing societal norms, and for this reason they all relate in one way or another to the counterculture movement.
For those of us were part of the Woodstock Generation, the 50th anniversary of Woodstock brings to the surface personal memories, melodies of favorite songs from the era, and recollections of stories that we read or heard all those years ago. I feel a sense of nostalgia when I remember that time in my life. Although our country was in turmoil during these years, there was nonetheless an underlying sense of optimism that ran through the counterculture movement. I am reminded of a stanza from Joni Mitchell's song about Woodstock in which she expresses hope for a more peaceful future:
By the time we got to Woodstock
We were half a million strong
And everywhere there was song and celebration
And I dreamed I saw the bombers
Riding shotgun in the sky
And they were turning into butterflies
Above our nation
English Learning Community News — Last week Tiffany Morin sent me the following update about our English Learning Community (ELC): "The English Learning Community is pleased to announce that the 2019-2020 ELC is full. The 25 members, who are mostly English majors, are excited to begin their first year at UNC Charlotte. It is our belief that a Learning Community that contributes to the department will feel more like a part of the department, and become more invested in it, aiding in student retention. We welcome department members to stop by our class to discuss organizations and programs or just introduce themselves. We are always looking for ways to contribute, so if you would like to involve the ELC in upcoming events, projects, or ideas, please contact Tiffany Morin."
Kudos — As you know, I like to use my Monday Missives to share news about recent accomplishments by members of the English Department. Here is the latest news:
Dina Massachi, a graduate of our M.A. program, recently presented a paper titled ""Are You a Good Witch, or a Bad Witch?': When Glinda Isn't Good" at OzCon International in Pomona, California.
Upcoming Events and Deadlines — Here is information about upcoming events and deadlines:
August 12— Final grades for the second summer session courses are due by noon on Monday.
August 20— First day of classes for the fall 2019 semester.
Quirky Quiz Question — One of the ways in which the counterculture movement lives on is through the comic strip Doonesbury, which made its debut as a daily comic strip in 1970. What is the name of the person who creates Doonesbury?
Last week's answer: A monkey
Astrid Lindgren's most famous character is a girl named Pippi Longstocking. Pippi has a pet named Mr. Nilsson. What sort of animal is Mr. Nilsson?