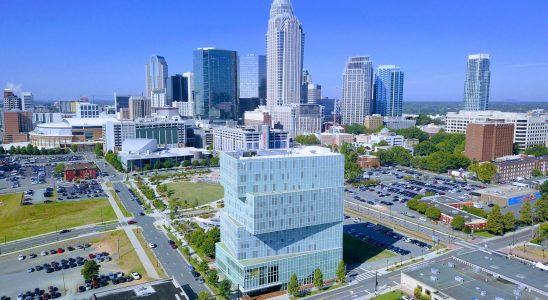 Urban Connections — Our university has long identified itself as an urban institution.  Our university is named after the city of Charlotte.  Our university's tag line is "North Carolina's urban research university."  Our university has a large facility called UNC Charlotte Center City.  This urban focus is also reflected in our teaching and service work.  I was reminded of our urban emphasis during a recent conversation I had with Janaka Lewis about the seminar for teachers that she is leading for the Charlotte Teachers Institute (CTI) this fall.    
Titled "Childhood and the City Space in Literature," Janaka's seminar is all about growing up in urban environments.  In her official description of her seminar, Janaka writes, "This seminar will examine representations of childhood in city settings, with specific focus on underrepresented populations and themes that feature them in literature."  Among the books that she will be covering are Octavia Butler's Parable of the Sower, Rita Williams-Garcia's One Crazy Summer,Sandra Cisneros's The House on Mango Street, and Angie Thomas's The Hate U Give.
In addition to having the participants study works of literature, Janaka also plans for them to incorporate the city of Charlotte in their examination of urban childhoods.  As she states in her description of the seminar, "Participants will also draw upon Charlotte as a cityscape by examining how local art, science, and history museums represent or could connect to underrepresented experiences of children in Charlotte." 
Janaka's CTI seminar is but one of numerous examples of community engagement activities performed by members of our English Department.  For many members of our department, the city of Charlotte is not just the location of our university;  it's also the urban nexus where our teaching and our commitment to community service converge. 
Kudos  — As you know, I like to use my Monday Missives to share news about recent accomplishments by members of the English Department.  Here is the latest news:
Allison Hutchcraft published a poem titled "Steller and the Sea Cow" in The Southern Review.
Matt Rowney recently presented a pre-conference workshop titled "Romanticism Now" and a conference paper titled "'Strange look'd it there!': Palms, the Explosion of the Palm Oil Industry, and the Poetry of Felicia Hemans" at the North American Society for the Study of Romanticism Conference in Chicago.
Upcoming Events and Deadlines — Here is information about upcoming events and deadlines:
August 12— Final grades for the second summer session courses are due by noon on Monday.
August 15— The University Convocation will take place on Thursday, August 15, at 9:30 a.m. in McKnight Hall. The Convocation will be preceded by a reception beginning at 8:30 a.m. in the Lucas Room.
August 20— First day of classes for the fall 2019 semester.
August 23— The CLAS All Faculty Meeting will take place on Friday, August 23, from 9:00 a.m. to 10:30 a.m. in the SAC Salons A & B. The meeting will be preceded by a light breakfast beginning at 8:30 a.m.
August 23— The first English Department meeting for the fall 2019 semester will take place on Friday, August 23, from 11:00 a.m. to 12:30 p.m. in Fretwell 290B (seminar room).
Quirky Quiz Question — Charlotte is named after Queen Sophia Charlotte, the wife of England's King George III.  The capital of Canada's smallest province is also named after this same queen.  What is the name of this Canadian province? 
Last week's answer: Gary Trudeau
One of the ways in which the counterculture movement lives on is through the comic strip Doonesbury, which made its debut as a daily comic strip in 1970.  What is the name of the person who creates Doonesbury?