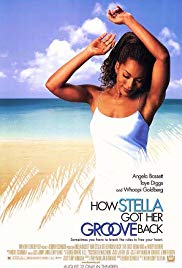 Back in the Groove — In August 1998, the film How Stella Got Her Groove Back made its debut.  Based on Terry McMillan's 1996 novel of the same title, this film had a great opening weekend, and it went on to become one of the most successful romantic comedies from the 1990s.  Shortly after the release of the film, I started hearing more and more people saying the word "groove," and this pleased me.  I like the word "groove" because it is associated with the grooves on vinyl records, and I have never lost my love of vinyl records.  It is for this same reason that I still use the old hippy word "groovy."  Thus, even though Stella (a stockbroker on the rise) and I (an aging English professor) don't have that much in common, the title of her film appeals to me.
For Stella, getting her groove back involves taking a vacation at a luxury resort in Montego Bay, Jamaica. For those of us in the English Department, however, getting our groove back involves settling into the routines and rhythms of our work. Now that our students have returned and our fall classes are well underway, I have a sense that the English Department is back in business. The quiet summer months are conducive to doing research, but the department just doesn't feel right to me without the presence of students.
The energy that our students bring to the department was evident at last Friday's Graduate Student Social. Hosted by our English Graduate Student Association, this event took place off campus at the nearby Wine Vault, and it provided an opportunity for graduate students and faculty members to socialize. I went, and I enjoyed hearing our students talk excitedly about their classes and their research projects. I also enjoyed hearing our faculty members sharing stories with our students. Kirk Melnikoff, for example, entertained all of us with his tales about his new office mate, who happens to be a mouse. I am not sure how a mouse got into Kirk's office, but I am pretty sure that the mouse is in for an educational experience. When faculty, students, and perhaps an occasional mouse interact in this way, I know that the English Department is back in the groove.
Working the Game — We all know how hard our staff work in the department, but what many people don't know is that our staff often also work at UNC Charlotte sporting events on the weekend. Last Saturday, Monica Burke, Jennie Mussington, and Angie Williams all worked at the home football game. I am pretty sure that this is the real reason the home team won!
Kudos  — As you know, I like to use my Monday Missives to share news about recent accomplishments by members of the English Department.  Here is the latest news:
Daniel Shealy published an article titled "'Wedding Marches': Louisa May Alcott, Marriage, and the Newness of Little Women" in Women's Studies, vol. 48, no. 4, 2019.
Upcoming Events and Deadlines — Here is information about upcoming events and deadlines:
September 24— The Provost's Awards Reception will take place on Tuesday, September 24, 2019, from 3:30 to 5:00 p.m. in the Halton Reading Room (Atkins Library).
Quirky Quiz Question — Three years before the release of How Stella Got Her Groove Back another film based on a popular McMillan novel made its debut.  This film is about the friendship of four women.   What is the title of this film?
Last week's answer: Piedmont Airlines
Our English Department is not the only place in Charlotte with international connections.  The Charlotte Douglas International Airport offers international connections of a different sort.  The Charlotte airport became an international airport in 1987 when a now defunct airline introduced flights between Charlotte and London. What is the name of this airline?