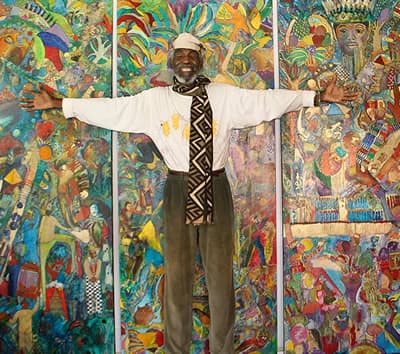 As I reflect on the on the recent demonstrations and protest marches in Charlotte and the rest of our country in response to the killing of George Floyd, I am reminded of the life and legacy of T.J. Reddy, one of Charlotte's leading civil rights activists.  Reddy died on March 31, 2019, but he and today's protesters are all part of a longer struggle for social justice.  As Dr. Martin Luther King Jr. once said, "Let us realize the arc of the moral universe is long, but it bends toward justice."  For the purposes of today's Storied Charlotte blog post, I want to take a moment to reflect on T.J. Reddy's role in this larger story. 
I first met T.J. Reddy in 1986. I had recently purchased the house where my wife and I still live, and my mother gave me an antique Swedish print as a house-warming gift. I decided to get the print framed, so I brought it to a nearby business called Ready Art Shoppe. The sign said it specialized in "Quality Custom Framing and Afro American Art." T.J. owned the business, and I ended up having a long conversation with him about the print and the importance of honoring one's ancestors. I explained to him how the print was tied to my mother's Swedish ancestors, and he showed me some examples of art tied to his African ancestors. He did a beautiful job of framing the print, and it still hangs in our dining room. After I picked up the print, I told Ann Carver (one of my colleagues in UNC Charlotte's English Department at the time) about my interactions with T.J. She then informed me about T.J.'s background as a civil rights activist, poet, and artist. Ann retired many years ago, but she and I are still in contact. I invited her to share her memories of T.J for this blog post, and she sent me a moving essay (see below).
Thomas James "T.J." Reddy was born in Savannah, Georgia, on August 6, 1945. He moved to Charlotte in 1964 to attend Johnson C. Smith University, and the next year he transferred to the University of North Carolina at Charlotte where he studied history and creative writing. While a student at UNC Charlotte, he became involved in various civil rights activities and protests. He and two of his fellow activists (known as the Charlotte Three) ended up being arrested on dubious charges, and 1972 he was sentenced to a twenty-year prison term. The case drew national attention with Tom Wicker, a New York Times columnist, calling it a "miscarriage of justice." In 1979 Governor Jim Hunt commuted T.J.'s sentence.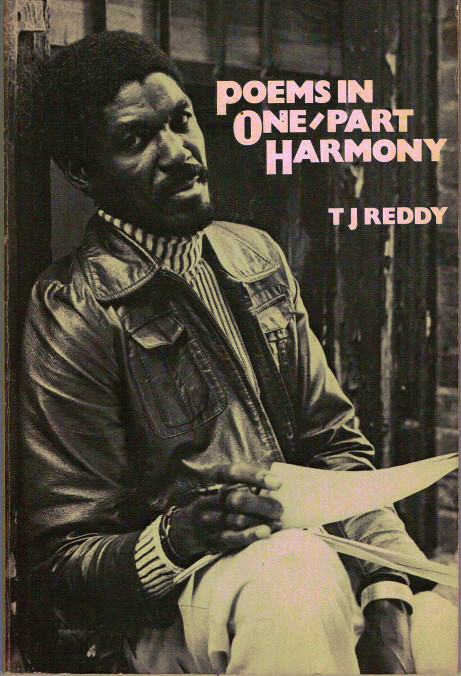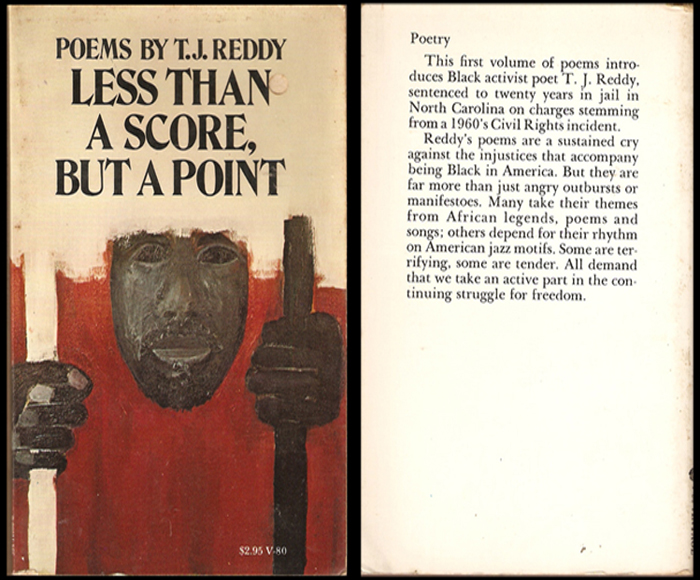 During the 1970s, T.J. focused much of his creative energy on his poetry. In addition to publishing poems in various literary journals, he published two collections of poetry: Less Than a Score but a Point came out in 1974, and Poems in One-Part Harmony came out in 1979. In the words of poet and critic Skylark Aberjhani, Reddy's poetry "provides unsettling snapshots of the impact of racism and poverty on the psyches of African-American children. … Ultimately, however, [Reddy's poems] are defined by the qualities of political outrage balanced with spiritual contemplation and romantic inclinations that inform his aesthetic sensibilities."
T.J. continued to write poetry throughout his life, but in the 1980s he began focusing his attention on the visual arts. He opened the Ready Art Shoppe in 1982, and in the late 1980s, he studied painting at Winthrop University. As a visual artist, T.J. aligned himself with the social realism movement. His art often deals with difficult topics, such as incarceration and police violence, but he offers hope for a better future. In many of his paintings, T.J. celebrates teachers. When talking about his art, he frequently expressed his desire to provide children with positive examples of caring and responsible adults.
In the summer of 2017, the Projective Eye Gallery at UNC Charlotte Center City sponsored a retrospective exhibition of T.J.'s work titled "Everything Is Everything," which included both his poetry and his paintings. After viewing this exhibition, I came away feeling in awe of T.J.'s ability to integrate his commitment to the civil rights movement with his passion for the poetic and visual arts.
"Everything Is Everything" was T.J.'s last major exhibition, but his art continues to touch the lives of young people. One of his paintings is on display in the main stairway of UNC Charlotte's Atkins Library. It's titled "The Child as an Open Book," and it depicts a mother and a child reading a book together. I think it is the perfect image to capture T.J. Reddy's many contributions to Storied Charlotte.
Remembering T.J. Reddy
By Ann Carver
When I met T.J. he was painting, working to make positive change in Charlotte's African American communities, and actively opposing the Viet Nam War. At a community center, he was counseling young African American men about how to avoid being drafted.
Just after a local riding stable refused to allow him and some friends to ride because of race, the stable burned and horses died in the fire. T.J., Dr. Jim Grant, and Charles Parker were charged with the crime. Both T.J. and Jim Grant were well-known civil rights and anti-Vietnam War activists. Neither of them knew Charles Parker well.
At their trial, it became clear that the men were being tried for their political views and activities, not for the charge of setting fire to the barn. The prosecution brought no physical or forensic evidence. They claimed to have found a bottle with gasoline at the site, but the bottle had somehow been lost. They brought in "witnesses" to testify, both of them unknown to the defendants, both of whom were convicted felons who had made deals with the prosecution for lower sentences in exchange for their testimony. The prosecution constantly referred to them as dangerous militants and with other negative politically charged terms. T.J., Jim Grant, and Charles Parker all had solid alibis for the night and time of the fire. None had any prior record, and both T.J. and Jim Grant were known to have non-violent philosophies of protest and activism for positive change.
Nevertheless, they were judged "guilty" and sentenced to prison. There were so many irregularities and flaws in the prosecution's case that it seemed inevitable their appeal for a new trial would be granted. It was not. They were sent to prison. As one appeal after another was denied, and when the same exact formula was used in Wilmington to charge and convict another UNCC student, Ben Chavis, and 9 other young black political activists, it became undeniably clear that a formula to convict black political activists on trumped up charges was being tested in North Carolina.
T.J., Dr. Jim Grant and Charles Parker became "The Charlotte 3," and Ben Chavis and the other 9 young men in Wilmington became "The Wilmington 10." The North Carolina Political Prisoners Committee was formed, and we worked tirelessly for years until their freedom was achieved when North Carolina Governor Jim Hunt commuted their sentences in 1979.
During the time T.J. was incarcerated, his wife and members of the N.C. Political Prisoners Committee took picnic lunches and visited him every week on visitors' day, regardless of weather. We realized his life was in constant danger from those who wished to silence him and the others. T.J. and also Ben Chavis were suddenly moved a number of times, without allowing them to notify anyone, from one prison facility to another. It was important that those in authority knew people were watching so that nothing could be done in secret and go unnoticed. While in prison, T.J. continued to paint, using the materials at hand: dirt, grass and other plants, gravel, crayons and pencils. He taught other inmates how to read, and he helped inmates properly file appeals and other legal documents. T.J. also completed his M.Ed. degree through UNCC in 1977.
When T.J. was at last released from prison, he devoted himself to developing his art, teaching and working with youth in the African American communities, working with students and faculty at UNC Charlotte, working with the African American Cultural Center, writing poetry and storytelling.  T.J.'s beautiful, masterly crafted, and powerful art speaks for itself. I have donated my collection of T.J.'s paintings, which I collected over the years from the time we first met, to the UNC Charlotte Atkins Library. It is available for exhibit and study.  Through the legacy of his community work and his art, T.J. made, and continues to make, a difference.  He was my friend.