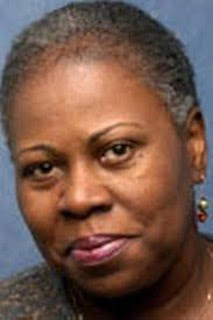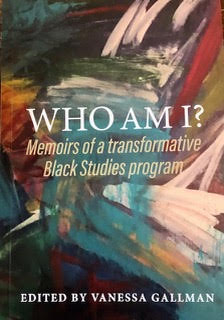 In keeping with the fact that February is Black History Month,  journalist Vanessa Gallman, a Charlotte native and former reporter for The Charlotte Observer, has just brought out a book that deals with the origins of the Black Studies Program at UNC Charlotte in the 1970s.  Titled Who Am I? Memoirs of a Transformative Black Studies Program, this book has deep personal connections for Vanessa.  She started her undergraduate education at UNC Charlotte in 1972, and she was one of the students who participated in the Black Studies Program during its formative years. 
Vanessa eventually transferred to UNC Chapel Hill, where she earned a journalism degree, but she remained in touch with the students and faculty members she met through her participation in UNC Charlotte's Black Studies Program.  In preparation for editing her book, she reached out to them and requested that they send her their recollections about the program's early days.  She then compiled these memories in her book.  For more detailed information about the book, please click on the following link:  https://store.bookbaby.com/bookshop/book/index.aspx?bookURL=Who-am-I5
I recently contacted Vanessa and asked her about the origins of her book. Here is what she sent to me:
"Who am I?" was the first question UNC Charlotte's Black Studies Program led students to explore in order to achieve excellence on campus and in life. Such soul-searching was essential for the first wave of students who desegregated universities during a time of racial turbulence.
Now five decades later, the 50 students who contributed memoirs to this book point to the courses, teachers or just the program's existence as key influences in their lives. The book is the brainchild of Dr. Bertha Maxwell Roddey, the first director of the program that is now called the Department of Africana Studies. She and the other professors were instrumental in my development as a person and as a journalist.
While the project is not an academic exploration, I hope readers would find it intriguing that student protesters worked with receptive administrators, such as the late Bonnie Cone, to create the groundbreaking program. Despite challenges and real fears, students were determined to fulfill the mission of integration. For those of us who participated in this early ethnic studies program, it provided us with the knowledge and tools to navigate the world at large. I am struck that some of the themes of past protest still echo in current student activism.
Who Am I? Memoirs of a Transformative Black Studies Program is a celebration of self-awakening, racial pride and teacher appreciation, as well a glimpse into a pivotal point in UNC Charlotte history.
Vanessa's new book serves as an excellent reminder that history is not just something that happens somewhere else.  As we celebrate Black History Month, we should remember that Charlotte has a rich history and that African Americans figure prominently in this history.  Vanessa and the contributors to her book provide us with a timely account of how Storied Charlotte came to be home of one the nation's first academic programs in Black Studies.