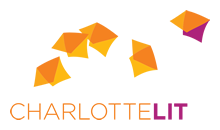 My sister, Anna, was born on my second birthday. When my parents brought Anna home from the hospital, they introduced me to her and told me that Anna was my birthday present. According to my parents, I responded by saying, "But I wanted a truck." Well, I soon got over getting a sister instead of a truck. As we grew up together, I came to enjoy sharing a birthday with my sister. We each had our own birthday party, but we also celebrated together. Our shared birthday is one of the many things that bonds us. I feel the same way about sharing an anniversary with Charlotte Lit. A year ago this week, I launched my Storied Charlotte blog, and five years ago this week, the Charlotte Center for Literary Arts, more commonly known as Charlotte Lit, made its public debut.
My Storied Charlotte blog and Charlotte Lit are both rooted in Charlotte's community of readers and writers, and both celebrate authors from Charlotte. For example, in my first Storied Charlotte blog post, I wrote about Carson McCullers and her novel The Heart Is a Lonely Hunter, which she started writing a block from where I live. Similarly, one of Charlotte Lit's first major initiatives was a year-long celebration McCullers and her connections to Charlotte. Charlotte Lit, however, is a far bigger enterprise than my blog. It sponsors classes, writing workshops, poetry readings, book launches, and many more events and programs. For more information about Charlotte Lit, please click on the following link: https://www.charlottelit.org/about/
I recently contacted Paul Reali, a co-founder and Operations Manager of Charlotte Lit, and asked him for more information about Charlotte Lit's first five years. Here is what he sent to me:
Charlotte Lit's genesis story arises directly from myth. Or, at least, from the seeds of one woman's love of myth. In 2014, after two years of solitary work completing her dissertation for a Ph.D. in Mythological Studies, poet Kathie Collins decided she'd reached the end of her ability to toil away in isolation.
She imagined a creative co-op, a place for writers and other creatives to work together in community. So, she set out with her dream––and a few pieces of furniture cast off from the bonus room where her college-aged kids had once gathered round a shared desktop and the family TV––and found affordable space in a repurposed CMS school building in Plaza Midwood. The old classroom, in what is now known the Midwood International and Cultural Center, had charm—natural light from tall windows, hardwood floors, and a pencil sharpener bolted to the wall.
Kathie was hoping for six or eight writers to join and share the rent—but the only one to sign on was me. I'm a self-employed corporate trainer who at the time was scaling back that business in order to develop my writing practice. Soon we started thinking about what we might do with this great space we had. We held a few "creative conversations" that drew a couple dozen people and we knew we were onto something. We started thinking about teaching classes, and other ways to bring writers and readers together.
One day in the summer of 2015 I got a text from Kathie. She'd been walking and a phrase had come into her head: Charlotte Center for Literary Arts. "That's what we're building," she wrote.
We gathered a focus group and asked the key questions: what could this thing be, and do we need it here? We incorporated in October 2015 and spent the next few months shaping the org before launching on February 19, 2016, with an event called "Light the Night." More than 100 people joined us for the opening, headlined by poet Linda Pastan and graciously hosted by our Midwood Center neighbor the Light Factory in their gallery. Most of that evening's guests immediately became Charlotte Lit members, and many have been with us ever since. We now have more than 200 annual membership subscribers and reach more than 1,500 people each year. It turns out the community did need Charlotte Lit; one of the more gratifying things we hear is "we didn't know we needed this until you created it."
We've experimented with different offerings during our five years. (We're rife with ideas, and not afraid to try things and see what sticks.) A number of those offerings remain core to the organization. We're probably best known for our craft classes, but we also have a strong following for the many lit-based talks, readings, and conversations open to the public. Each year we hold about 100 classes, half of them free, and all classes have available scholarships. We have a multi-year program for book writers called Authors Lab. And we occasionally do big events, such as a year-long series in 2017 to honor Carson McCullers, who began writing The Heart is a Lonely Hunter here in the 1930s and who shares our February 19 birthday, and our NC Arts Council-supported 2019 community-wide Beautiful Truth personal story-telling initiative. One of our most visible ongoing public programs is the 4X4CLT quarterly poetry+art poster series curated by Lisa Zerkle. This program matches a nationally known poet with a local artist, resulting in four beautiful posters being displayed all over the county, and a public reading by the poet which always draws 50-100 people.
Five years down the road, we're proud to now be included in the list of Charlotte arts organizations receiving operational funding from the ASC. As much as we've grown and accomplished, however, connecting people—writers and readers—to one another remains at the heart of all we do. Kathie had community in mind when she first walked through the Midwood Center's doors, and community has been part of Charlotte Lit's mission ever since. Not coincidentally, we now have two classrooms in the Midwood Center, one of which is available daily to our members as an inviting place to practice their craft "in community," just as Kathie first imagined. We're looking forward to having both classrooms open full-time again in the fall, and keeping the Charlotte Lit story going.
I thank Kathie Collins, Paul Reali and the many other people associated with Charlotte Lit for all of their contributions to Storied Charlotte, and I enthusiastically wish Charlotte Lit a happy fifth birthday. Although I can't provide everybody with a truck as a birthday present, I can offer a quotation by Robert Crumb: "Keep on truckin'!"