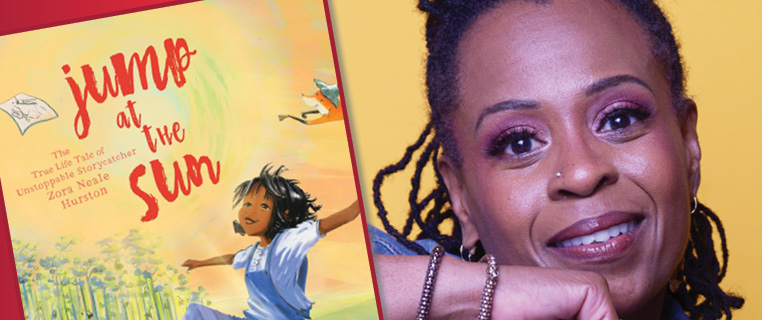 Charlotte author Alicia D. Williams burst on the children's literature scene in 2019 with the publication of her debut novel, Genesis Begins Again. She received both a Newbery Honor and the Coretta Scott King-John Steptoe Author Award for New Talent for this novel. Following the success of her first book, she stepped away from her teaching position and focused her attention on her burgeoning writing career.
Last month, Atheneum Books for Young Readers released her second book, a picture book biography of folklorist and writer Zora Neale Hurston.  Titled Jump at the Sun:  The True Life Tale of Unstoppable Storycatcher Zora Neale Hurston, this picture book is already garnering rave reviews from Publishers Weekly, Kirkus and several other national magazines and journals.  For more information about Williams and her books, please click on the following link:  https://www.aliciadwilliams.com/
In Jump at the Sun, Williams shows how Hurston's experiences growing up in Eatonville, Florida, during the 1890s shaped her interest in African American folklore and sparked her love of storytelling. Williams focuses much of the book on Hurston's childhood and early adulthood, but she touches on Hurston's career as a folklorist, anthropologist and professional writer. As several reviewers have noted, the book has a lively, joyful tone that is matched by Jacqueline Alcántara's vibrant and energetic illustrations. The book also includes memorable lines from some of the tales that Hurston published in her folktale collections, such as Mules and Men.
In her "Author's Note" that comes at the end of Jump at the Sun, Williams recalls her introduction to Hurston: "I remember when I first met Zora. I was in college, studying in the library. My friend, only a table over, giggled and giggled. She'd get quiet and then giggle again. Finally, I got up from my seat to find out what was so funny. She held up a book by Zora Neale Hurston. And she later gifted me the anthology I Love Myself When I Am Laughing … And Then Again When I Am Looking Mean and Impressive." As Williams tells it, this book became one of her treasures. She found in Hurston an author she loved but also a role model of sorts. Like Hurston, Williams has a passion for storytelling. Her new career as a children's author is an outgrowth of her many years of experience as a storyteller and performer.
Williams recently told a writer from Folklife that one of her goals in writing Jump at the Sun is to introduce children to the joys that come with sharing folktales. As she put it, "I want this whole engagement of bringing back the storytelling and oral traditions and sharing them and having fun with them." By introducing children to Hurston's contributions as a collector and teller of stories, Williams hopes to encourage children to follow the advice that Hurston heard from her mother: "Jump at de sun. You might not land on de sun, but at least you'd get off do ground." As we celebrate Black History Month here in Storied Charlotte, this sounds like timely advice that we should all make an effort to follow.