When I visited Park Road Books the other day, I took a look at their display of recent books by area authors, and that's where I saw Brandon Reese's latest picture book, Cave Dada Picky Eater.  I enjoyed Brandon's Cave Dada, which came out in 2020, so I decided to check out his new book.  As soon as I picked it up, I noticed a cover sticker with the words "Autographed Copy" on it.  The person behind the counter told me that Brandon had recently stopped by the store to sign copies of his book.  She mentioned that he didn't just sign the books—he also included original drawings along with his signature.  She was right.  I opened the book, and in the front, I saw a wonderful sketch of Cave Dada and his son.  Needless to say, the book is now part of my picture book collection.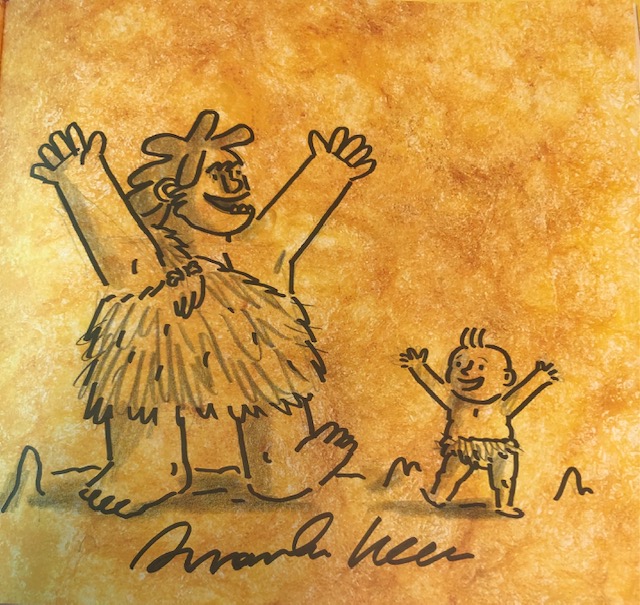 Brandon's Cave Dada picture books are funny accounts of the misadventures of a Stone Age father and his toddler son Baba. In the first book, Baba wants his father to read him a bedtime book, which takes more effort than one might expect since Baba's books are made out of stone. Cave Dada resists because he is tired from hunting and gathering all day, but of course Baba wins the day, or in this case, the night. In the process, Cave Dada accidentally discovers how to make a fire. In the second book, it's morning and Baba wants an egg for breakfast, but Cave Dada is all out of eggs. What follows is a series of mishaps as Cave Dada tries to entice his son to eat something else for breakfast. In the end, Cave Dada finds an egg and accidentally invents the omelet in the process of cooking it.
While creating these books, Brandon draws on his own experiences as a father.  His own son is now a teenager, but Brandon remembers well the parenting experiences he had when his son was little.  These experiences are reflected in the humorous adventures of Cave Dada and Baba.   As is stated on the dust jacket for Cave Dada Picky Eater, Brandon "has ample experience cooking breakfast for picky eaters."
In creating his picture books, Brandon also draws on the support of other children's authors and illustrators who live in the Charlotte area. I asked him for more information about this support network, and here is what he sent to me: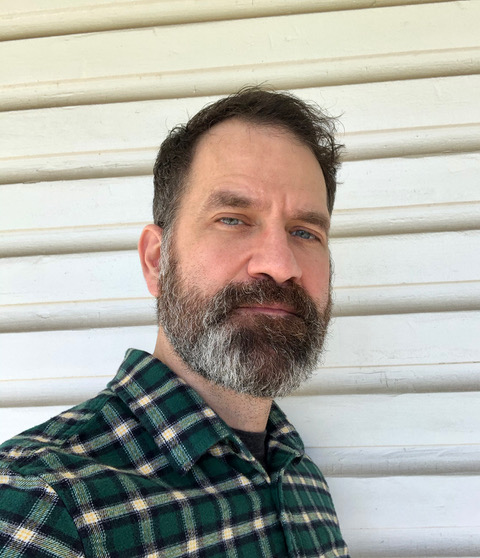 My goal has always been to be an author and illustrator of picture books. I struggled for quite some time trying to gain traction in the industry. Eventually (and thankfully!) I found SCBWI (Society of Children's Book Writers and Illustrators) and joined a local critique group here. Charlotte is rife with talented and published kid-lit authors and illustrators. It's a wonderful, supportive community that's certainly aided my career. 
If I remember correctly, CAVE DADA was the first manuscript I brought to my critique group. I figured I was on the right track when it was read aloud and everyone laughed at the right spots. Eventually, it was sold in a 2-book deal with Chronicle Books. The second book, CAVE DADA PICKY EATER, just came out this April… just in time for Father's Day!
For readers who want to know more about Brandon and his picture books, please click on the following link:  https://www.brandonreese.com/about/  For readers who want to know more about the local chapter of the Society of Children's Book Writers and Illustrators, please click on the following link: https://carolinas.scbwi.org/  For readers who are interested in Father's Day stories that have connections to Storied Charlotte, I highly recommend Brandon's Cave Dada picture books.