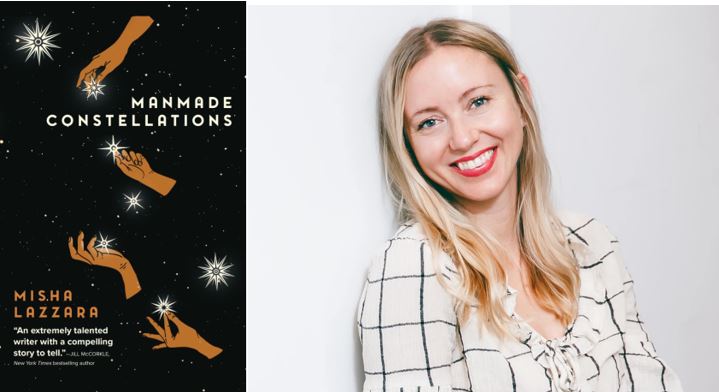 Over the past few years, I have been hearing a lot about Misha Lazzara.  I first heard her name from the creative writing professors in the English Department at UNC Charlotte.  They described Misha as a very talented graduate student who was studying fiction writing in our department.  I then heard that she had been accepted into the MFA program in creative writing at North Carolina State University.  Next, I heard that she had completed her MFA and had come back to our department to teach a creative writing course as a part-time faculty member.  Most recently, I heard that her debut novel, Manmade Constellations, had just been released by Blackstone Publishing.  Well, after hearing so much about her, I decided to check out her novel for myself.
Manmade Constellations is a road-trip story of sorts.  The novel begins when Lo Gunderson, an alienated young woman from a small town in Minnesota, responds to an ad for a "free car." When she meets Blanche Peterson, the dying woman who is giving away the car, Lo learns that the free car comes with a condition.  Blanche wants Lo to find her estranged son.  Lo agrees to the deal, but first, she needs to get the car in running condition.  She gets help from a young car mechanic from North Carolina named John Blank, and he ends up joining Lo on her quest to find Blanche's son. For much of the novel, Lo and John travel together, experiencing the American landscape and, in the process, learning a lot about each other.  The central characters become more and more complex as the story progresses.  They have secrets, difficult family histories, and longings that they don't fully acknowledge or understand.  As a reader, you have a sense that you are traveling in the backseat with these characters, and they make for very memorable traveling companions. 
After reading Manmade Constellations, I contacted Misha and asked her how she came to write this novel. Here is what she sent to me:
I've wanted to be a writer for as long as I can remember. When I was eight or nine my mom gifted me the children's book The Lives of Writers by Kathleen Krull, which highlights the biographies of a dozen or two well-known writers including Murasaki Shikibu, who I happened to name a pet turtle after. There was also Jane Austen, Emily Dickinson, and Langston Hughes, among others. Ostensibly, I had shown an interest in reading and writing as a young girl, but it was really with that book in my hand that I set my sights on the job title. 
However, as it does for many, life nuzzled in. It felt like I had only been handed my bachelor's degree in English before I found myself married and starting a family. Later, when I entered UNC Charlotte to get my master's degree eight years out of undergrad, I was pregnant with my third child while my husband traveled for work. With all those responsibilities, I applied to grad school with more "logical" intentions. The plan was to focus on English, so I might find a job teaching one day down the line, once my own kids were all set up in grade school. True, I had the unkempt and abandoned manuscript of Manmade Constellations, a novel I'd been working on through my twenties, in the proverbial drawer (a dusty computer file), but as I formed the Graduate School Masterplan with my husband, teaching English felt like the responsible thing to do.
That responsible thing lasted about a week into my first writing workshop with Dr. Aaron Gwyn, which happened to be the very first class I signed up for and the first graduate class I ever stepped foot into. I decided (bravely or naively, I can't say) to switch my focus to creative writing. Still, I worked on a project that I deemed more serious–a wartime historical fiction that remains unfinished–up until the pandemic descended.
By that time, I was almost halfway through my MFA at North Carolina State University. The work of homeschooling my kids, teaching Intro to Fiction for NCSU via Zoom, and taking my own course load made it clear to me that WWII research would not fit on the docket. So, I had an idea to rewrite that old story–Manmade Constellations–from scratch. 
For me, the book is largely a story about home. And for me, Minnesota is home. That's where I grew up at least. When do we stop calling where we grew up 'home?' I don't know if I'll ever have an answer for that. I've lived here in Charlotte for almost fourteen years, and I only lived in Minnesota for eighteen. Time is catching up to me, I suppose, but still it was cathartic to revisit those old haunts–the lakes, the wood-paneled diners, and those flat stretches of highway broken up by even more lakes. 
Still, I knew that the South, and more precisely North Carolina, would have to fit into this story of home somehow. Since I first visited Marshall, a small railway town outside of Asheville, I'd been enthralled by the half-hidden settlement of "snake churches" in the area. In the book, John Blank, a good-natured Southern kid who trailed his way up to small-town Midwest, harbors secrets that connect to those enigmatic sanctuaries.
So, if the question is how this novel came to be and how it relates to my life here in North Carolina, the answer is that I may have never written Manmade Constellations, or any book at all, if it hadn't been for Dr. Lara Vetter encouraging me to apply at my first meeting at UNC Charlotte when I was unsure whether I was qualified for graduate school, or perhaps I'd never given it a shot if I hadn't been so inspired by Dr. Gwyn's writing workshop that first semester.
Well, that, and also the snakes.
For readers who want to know more about Misha, please click on the following link:  https://mishalazzara.com/?v=2e5df5aa3470
As a long-time member of UNC Charlotte's English Department, I am always proud when our former students go on to do great things. I am proud of Misha, and I highly recommend her debut novel. There is a new star in Storied Charlotte's literary galaxy, and it's called Manmade Constellations.