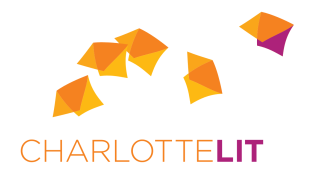 Jenny Han, the Korean American author of The Summer I Turned Pretty and many other popular novels, once wrote, "Everything good, everything magical happens between the months of June and August."  For me, part of the magic of summer involves the act of writing.  Since I don't usually teach during the summer, I spend the summer months in my quirky office working on a book or an article, all the while endlessly sipping coffee from my Wind in the Willows mug.  I cannot seem to write without drinking coffee at the same time.  My goal every summer is to finish the initial draft of whatever writing project I am working on at the time, and then I do my revisions during the school year.  This approach has worked for me for many, many years.  I attribute whatever success I have had as a writer to the magic of summer (with a little boost from the coffee).
Paul Reali and Kathie Collins, the co-founders of Charlotte Lit, know all about the magical relationship between the months of summer and the act of writing. Paul, Kathie and the other people involved with the running of Charlotte Lit have scheduled a wide range of summer programming for all kinds of writers. I contacted Paul and Kathie and asked them for more information about Charlotte Lit's summer programs. Here is what they sent to me:
Mark, we're excited to tell you about Charlotte Lit's summer offerings!
Our community has been asking, so for the first time in our seven years we've decided to add a big selection of summer programming. At the risk of saying we have something for everyone, we do have a really good mix of topics and formats from which to choose.
"Everything, Really Everything…" is our newest concept. On three Wednesday nights, we'll host a writer who will tell the audience everything they know about a certain topic. The evening starts at 5:30 and also includes social time and adult beverages. Here's that list:
June 14: Everything, Really Everything, Kim Wright Knows and Writing Beach Reads
July 19: Everything, Really Everything, Dustin M. Hoffman Knows About Writing Short Stories
August 16: Everything, Really Everything, Emily Sage Knows About Songwriting
We'll host two other writers for special events. Poet Gabrielle Calvocoressi joins us for the next Poetry Nightclub, June 22 at Starlight on 22nd. These are fun nights in a very cool atmosphere. Later in the summer, on August 11, novelist Abigail DeWitt will be at Charlotte Lit to read from and discuss her work.
Of course, Charlotte Lit will offer some writing classes, too—by Zoom to make it easy for anyone to attend from anywhere. Journalist and essayist Amy Paturel will join us from Los Angeles for Writing and Pitching the Reported Essay, two Sunday afternoons, July 30 and August 6. Writer Elizabeth Hanly comes to us from Mexico for four sessions beginning July 18, for what we think will be one of our most important offerings ever: Togetherness: Writing for Those Touched by Cancer and Other Serious Illness.
Every Tuesday morning at 9:30, a dozen or more writers gather on Zoom for our prompt-based writing hour, Pen to Paper. This continues all summer and is a great way to spark new ideas.
We'll end the summer and kick off our full programming year at Rosie's Wine Garden for our second annual Open Mic, with our friends at the North Carolina Writers' Network, August 25.
Finally, there's one more item of interest for poets: we'll start taking applications for our Poetry Chapbook Lab on June 15. This is a year-long intensive with coaching and master classes that results in a publication-ready chapbook.
It's a whole lot of things, so we've made a special web page with all this info and registration links, here: https://www.charlottelit.org/summer2023/
We hope to see many of your readers this summer!
I thank Paul and Kathie for sharing this information about Charlotte Lit's summer offerings. I also thank Charlotte Lit for providing area writers with a spoonful of inspiration so that they, too, can have their own magical summer in the city of Storied Charlotte.