Writers of historical fiction are first and foremost storytellers, but they are also tour guides who take readers to other places and times.  In most historical novels, the settings, both in terms of place and time, play integral roles in the unfolding of the plots.  Such is the case with two recently published historical novels written by Joy Callaway and Nancy Northcott, both of whom are Charlotte writers.
Joy's new novel is titled All the Pretty Places: A Novel of the Gilded Age. The story begins in Rye, New York, in April 1893. Like Joy's previously published historical novels, All the Pretty Places features a determined heroine who strives to establish a career during a time when society often placed limitations on women's career opportunities. In the case of All the Pretty Places, the central character is Sadie Fremd, the daughter of an entrepreneur who founded Rye Nurseries. Sadie shares her father's passion for horticulture and longs to take over the family business when her father retires. He has other plans for her. Sadie's predicament is nicely captured in the following blurb provided by the publisher:
Sadie Fremd's dreams hinge on her family's nursery, which has been the supplier of choice for respected landscape architects on the East Coast for decades. Now her small town is in a panic as the economy plummets into a depression, and Sadie's father is pressuring her to secure her future by marrying a wealthy man among her peerage—but Sadie has never been one to play it safe. Besides, her heart is already spoken for.
Rather than seek potential suitors, Sadie pursues new business from her father's most reliable and wealthy clients of the Gilded Age in an attempt to bolster the floundering nursery. But the more time Sadie spends in the secluded gardens of the elite, the more she notices the hopelessness in the eyes of those outside the mansions. The poor, the grieving, the weary. The people with no access to the restorative beauty of nature.
Sadie has always wanted her father to pass his business to her instead of to one of her brothers, but he seems oblivious to her desire and talent—and now to her passion for providing natural beauty to those who can't afford it. When former employee, Sam, shows up unexpectedly, Sadie wonders if their love can be rekindled or if his presence will simply be another reminder of a life she longs for and cannot have.
Joy Callaway illuminates the life of her great-great-grandmother in this captivating story about a daring woman following her passion and finding her voice, while exploring natural beauty and its effect in the lives of those who need it most.
For more information about Joy and her novels, please click on the following link: https://www.joycallaway.com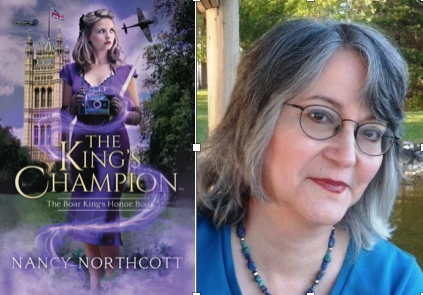 Nancy's new novel, The King's Champion, concludes her Boar King's Honor historical fantasy trilogy.The central premise of the trilogy, running through all three books, is that Richard III was framed for the murders of his nephews, who're known as the Princes in the Tower, and the king was killed at Bosworth Field before the wizard who unwittingly assisted in the murders could name the true killer. Speaking up under the Tudors, who followed King Richard on the throne, would have cost the wizard his life. Tormented by guilt, he cursed all his heirs to not rest in life or death until they cleared the king's name.
While the family's quest to lift the curse runs through all three books, each centers on a bigger problem with higher, wider-ranging stakes. Everything wraps up in The King's Champion. Here's a description provided by the author:
Caught up in the desperate evacuation of the British Expeditionary Force from France in the summer of 1940, photojournalist Kate Shaw witnesses death and destruction that trigger disturbing visions. She doesn't believe in magic and tries to pass them off as survivor guilt or an overactive imagination, but the increasingly intense visions force her to accept that she is not only magically Gifted but a seer.
In Dover, she meets her distant cousin Sebastian Mainwaring, Earl of Hawkstowe and an officer in the British Army. He's also a seer and is desperate to recruit her rare Gift for the war effort. The fall of France leaves Britain standing alone as the full weight of Nazi military might threatens. Kate's untrained Gift flares out of control, forcing her to accept Sebastian's help in conquering it as her ethics compel her to use her ability for the cause that is right.
As this fledgling wizard comes into her own, her visions warn of an impending German invasion, Operation Sealion, which British intelligence confirms. At the same time, desire to help Sebastian, who's doomed by a family curse arising from a centuries-old murder, leads Kate to a shadowy afterworld between life and death and the trapped, fading souls who are the roots of her family's story. From the bloody battlefields of France to the salons of London, Kate and Sebastian race against time to free his family's cursed souls and to stop an invasion that could doom the Allied cause.
For more information about the Boar King's Honor trilogy and Nancy's other work, please visit her website, www.NancyNorthcott.com.
Although Joy's All the Pretty Places is a work of historical realism and Nancy's The King's Champion is a work of historical fantasy, these two novels have several points in common. They both feature strong female characters who take action and exercise agency.  Both novels are grounded in careful historical research, and as a result, they provide readers with a sense of experiencing life in another place and time.  Finally, both are written by authors who belong to Storied Charlotte's cadre of talented historical novelists.