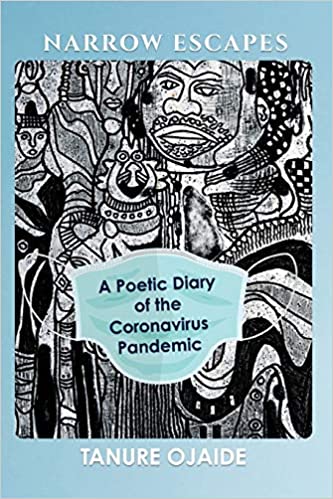 Tanure Ojaide is a well-known Nigerian poet, but he is also the Frank Porter Graham Distinguished Professor of Africana Studies at UNC Charlotte.  I met Tanure shortly after he came to UNC Charlotte in 1990, but it was not until last year that our mutual interest in poetry intersected.  Shortly after the outbreak of the coronavirus pandemic, the editor of Exchange (a publication of UNC Charlotte's College of Liberal Arts and Sciences) decided to run an article about the response of UNC Charlotte's poets to COVID-19.  Tanure and I were among the poets the editor interviewed, and each of us had a poem included in the article:  https://exchange.uncc.edu/poets-reflect-on-impact-of-challenges-on-human-spirit/  In both cases, our poems were about taking walks during the quarantine, but our paths soon diverged.  Whereas I wrote just one poem related to the pandemic, Tanure went on to write an entire collection on this topic.  Titled Narrow Escapes:  A Poetic Diary of the Coronavirus Pandemic, this collection came out this month from Spears Books.  For more information about this book, please click on the following link:  https://spearsmedia.com/shop/narrow-escapes/
Tanure asked me if I would write a blurb for the book, and I happily agreed. As I state in my blurb, Narrow Escapes is presented as a series of poetic diary entries, spanning from March 19, 2020, to October 31, 2020. Each of the poems is a response to the coronavirus pandemic, but they vary in focus from the global impact of the pandemic to the very personal impact on one's family members. All of these poems pack an emotional wallop, but the personal ones are especially gut wrenching. For example, the poem "When the Coronavirus Comes to the House" captures perfectly the anxiety and anguish that parents feel when their children are stricken by a deadly virus. In many ways, this poetic diary has the feel of a verse novel, for there is a continuing narrative that ties these poems together. The poems in Narrow Escapes narrate the unrelenting progression of a global pandemic. It is a narrative that we all are experiencing, and that is what gives this book its universal appeal.
I recently contacted Tanure, and I requested that he send me a statement about what prompted him to write this book. Here is what he sent to me: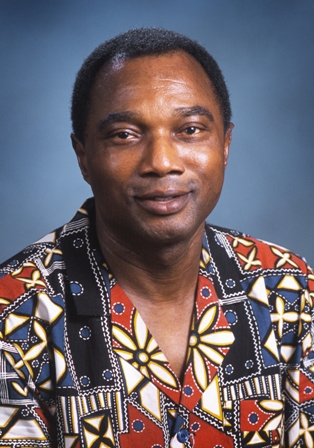 The poet is a restless human being whose reflexes are like antennae that respond to what is happening around. I have always known that no part of the world is separated from another and this connectedness has been strengthened by globalization. Thus, when there was the outbreak of the strange virus that turned out to be Coronavirus or COVID-19 in distant Wuhan, China, I had no doubt it would get to wherever there were human beings. It did not take long for it to get to Europe and watching the fatalities in Italy, Spain, France, and Britain, my anticipation became more real because of the connections between Milan, Madrid, Paris, and London and American cities. Within a week California and New York got the virus and the rest is familiar history.
Much as I used to refrain from jumping to write on issues or events as they unfolded, COVID-19 was a force that compelled my imagination to do something immediately. What else should a poet do than follow closely the spread, disruptions, fatalities, fear, near misses, and triumphs of this mysterious virus that doctors did not then know much about? It was current but its lasting currency intrigued me. As a global person, I follow happenings across the world. The heavy toll in northern Italy that I know through Milan and Bellagio told me that this was serious business. At a point, especially in late March through June, 2020, the trepidation was palpable. Doctors did not seem to know what to offer as treatment and many people who went to hospital died. Most of those who contracted it did not only die lonely but were gurneyed into cold trucks for mass burial as at a time in New York. For me, that was a threat that one should not take lightly. My family hunkered in religiously during the period of the lockdown.
What else could be more menacing as to move a poet to write than the entire world attacked by a tiny mysterious virus that behaved like a trickster? The pandemic offered me an opportunity to reflect on the vagaries of life and things. Why not write day by day as the charts of hospitalized folks rose to higher and higher peaks? The television stations and social media presented graphic images again and again that made nights riddled with nightmares. I often woke at night to jot down my reflections on the past day and my anticipation of what would come later that day. There was gloom but after some time there was a sense of defiance. What could be more poetic a subject than a dance of defiance against death in many narrow escapes? Some days, I had one entry or two or even three depending on Aridon, my muse. Each diary entry was like a dot in a circle and daily I added more dots to fill up the circle to make meaning about life. I was baring my heart as I tried to write entries that should communicate poetically. Unlike my earlier poems, there was barely a long poem in this collection. I was mobbed by images and thoughts of a global world which had taken for granted its confident development that it thought nothing could change its trajectory of progress. The poet loves this delusion of humans. COVID-19 levelled the world in a sense as developed and developing countries were equalized. The powerful and the weak faced the same threats and ironically a superpower nation led by an erratic president fumbled in handling the pandemic. For some act of fate up till now, Africa has not suffered close to what Europe and North America went through in fatalities.
The COVID-19 pandemic started from very far away. I knew it would come to the United States but did not foresee its coming to my home. It came really close to me. My lastborn son and daughter contracted it as they developed coughing and tested positive. Whether that was a fluke or not, I can't tell because within three months my daughter caught it again and COVID-19 showed to us its ugliness as I never saw it from a distance with other people. She was in a ventilator for a day and those hours were the most traumatic I have experienced. She came out of the critical state and got moved to a step-down ward before being discharged for rehabilitation. It took her several months to get to relative normalcy even though she feels the side effects of COVID-19 will remain with her for a long time. Imagine your family narrowly escaping a fatality and your suppressed jubilation and somber solidarity with others still mourning their loved ones!
Given that April is National Poetry Month, I thought it would be fitting to include one of the poems from Narrow Escapes in this week's Storied Charlotte blog post. I ran this idea by Tanure, and he kindly gave me permission to include the following poem:
We Are All Casualties
We knew people ambulanced to hospital
but did not return,
we know who returned on their own feet
but stunned to silence by their vulnerability;
we know those whose relatives or friends
either lost or won their personal battles.
All the while we have stayed at home.
It is not that distant despite social distancing—
those who grieve for the dead,
those who participate in muted celebrations,
and those who suffer enervating trepidations
from the fatalities trucked to mass graves
and the losses no words can convey.
Dead, positive, or negative
we are all casualties of COVID-19.
I think that Tanure is right when he says that we are all casualties of COVID-19. This pandemic has had an impact on all of us, and as a result, we all can relate to the poems in Tanure's Narrow Escapes. Tanure's newest poetry collectiondeals with a global pandemic, but at the same time, it relates directly to Storied Charlotte.