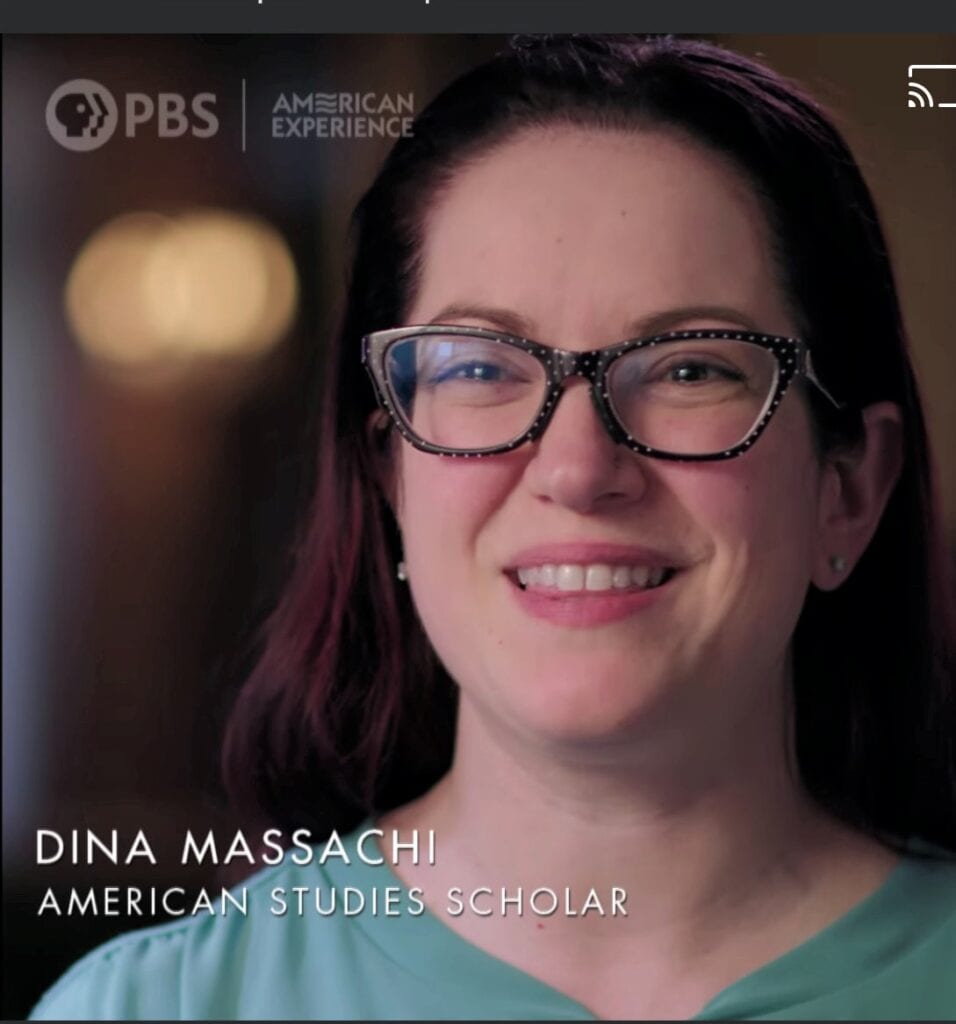 I first met Dina Massachi in 2014 when she took a graduate course that I was teaching on children's literature.  In my conversations with her, she mentioned her interest in conducting a research project related to L. Frank Baum's Oz books, and I agreed to help her with this project.  Since then, Dina has established herself as a recognized authority on Baum and the Oz stories that he created.  
Dina's scholarship on Baum recently came to the attention of the producers of a PBS documentary about Baum. They contacted her, and they were so impressed with her insights into Baum's life and work that they arranged for her to fly from Charlotte to Boston so that they could record an interview with her for the documentary. That documentary, which is titled American Oz: The True Wizard Behind the Curtain, debuts on April 19, 2021, on PBS's American Experience series. For more information about this documentary, please click on the following link: https://www.pbs.org/wgbh/americanexperience/films/american-oz/
I recently contacted Dina and asked her for more information about her interest in Baum and her experience being interviewed for this PBS documentary. Here is what she sent to me:
While I've loved Oz since childhood, I didn't begin my journey as an Oz scholar until I began working on my master's degree at UNC Charlotte. With the help and guidance of Dr. West, and so many others within the UNC Charlotte English Department, I was able publish an article in The Journal of American Culture about how Oz connects to the first-wave feminist movement. Somewhere in the research process, Dr. West suggested joining The International Wizard of Oz Club; the connections I've made there have been beyond helpful. The Oz Club's journal, The Baum Bugle, has all sorts of information that can't be found anywhere else. Further, like Dorothy, I've been able to meet interesting friends as I've traveled further and further into the wider world of Oz. Last year, during the early Covid lockdowns, those friends helped me put together a reading of The Wonderful Wizard of Oz that can be found here: https://m.youtube.com/playlist?list=PL3OVMLWgINCSSQBBUgdOeOTZcDybheAy3
I've learned along the way that one success often leads to another, and I've published quite a bit about Oz since earning my master's degree. One of those publications, a chapter titled "L. Frank Baum: Brains, Heart, Courage" in the book Shapers of American Childhood, caught the eye of one of the producers of The Film Posse and they contacted me about a documentary they were working on for American Experience. Two producers from The Film Posse and I shared several phone conversations before they flew me to Boston to film. I had never been on television before, but I imagined a lot of glitz and glamor. Instead, it was a lot of odd rules (one can't wear certain jewelry without messing up sound, as an example), but it was still quite exciting. The strangest part of the experience is that I can't speak to the final product. I haven't seen anything that isn't public, so I'm not sure what the documentary looks like. The whole experience was sort of like turning in a group project where I only know my own piece— and even then I have no idea which soundbites of mine have been used.
While I wait to see what the "American Oz" episode of American Experience looks like, I've been distracting myself with various projects. I teach at UNC Charlotte— I regularly teach an Oz class with the American Studies Program, and I will be offering a brand-new Oz class for the English Department this fall. My connections with The International Wizard of Oz Club have allowed me to create opportunities for my students to play with Oz scholarship in meaningful ways. I'm excited to see where this road takes me, and I hope to follow in the footsteps of Dr. West by assisting others on their journey down their scholarship path.
One of the great pleasures that comes with being a professor is seeing one's former students successfully launch their careers and go on to accomplish great things on their own. Dina is such a former student. I am proud of her, and I am looking forward to seeing her on the American Experience documentary about L. Frank Baum. Dina has made a name for herself in the world of Oz scholarship and in the land of Storied Charlotte.