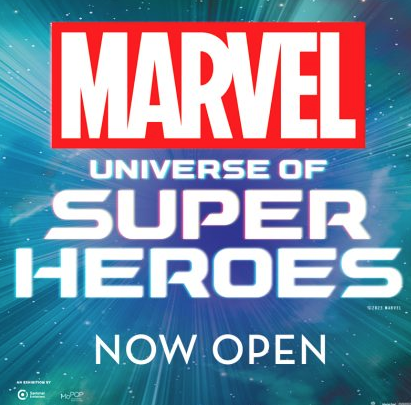 Visiting Discovery Place's Marvel: Universe of Super Heroes Exhibit with Michael Kobre – Charlotte has long been a hub for all things related to comic books. It's the home to Heroes Aren't Hard to Find, which opened in 1980 and is now widely recognized as one of the nation's premier comics shops. It's the location of the annual Heroes Convention, which is organized every June by Heroes Aren't Hard to Find. And now Charlotte's Discovery Place Science Museum is hosting the blockbuster touring exhibit titled Marvel: Universe of Super Heroes. Charlotte is the exhibition's only stop in the entire Southeast. After the exhibit closes on September 4, 2023, it will go on tour in Europe. For more detailed information about this exhibit, please click on the following link: https://my.discoveryplace.org/marvel/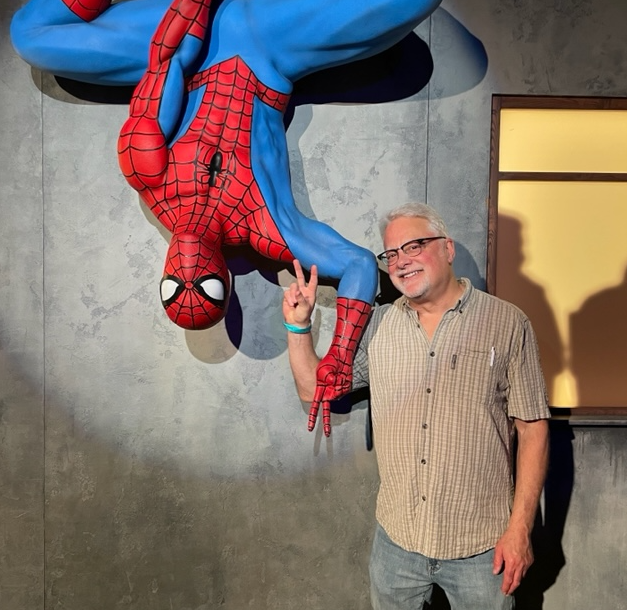 When I first heard about the opening of the Marvel exhibit, I immediately thought of Dr. Michael Kobre. Mike is the Dana Professor of English at Queens University of Charlotte. In addition to being the author of a scholarly book about Walker Percy's novels, Mike is an expert on Marvel superheroes. His publications on this topic include an essay titled "Only Transform: The Monstrous Bodies of Superheroes," which is about the transformative bodies of Marvel's superheroes. I contacted Mike and asked him if he would be willing to provide me with his responses to the Marvel : Universe of Super Heroes exhibit, and he kindly agreed to do so. Here is what he sent to me:
In a panel at this year's Heroes Convention on the "Marvel: Universe of Super Heroes" exhibition now on display at Discovery Place, one of the exhibition's curators, the comics scholar Ben Saunders, explained how the exhibition was designed to tell a story about the history of Marvel in comics, film, and television and its enormous influence on our culture. And that's exactly what you find when you step into the exhibition and you follow the history of a second-tier comics company that became over decades a media giant and a cultural phenomenon. Richly illustrated, the exhibition is filled with costumes and props from Marvel's cinematic universe and a lavish display of original art from the comics, which are all featured in multi-media spaces that include a room designed to look like the surreal dimensions of Doctor Strange and another that lets you feel like you're stepping into the suburban community conjured into existence by the Scarlet Witch in the Disney+ series WandaVision.
Framed throughout the exhibition in large display cases, the costumes show the extraordinary detail and craftsmanship of the filmmakers, including the Academy Award-winning designs of the Black Panther costumes created by Ruth E. Carter, the first Black artist to receive an Oscar for Best Costume Design. But for this longtime comics fan, whose imagination was forever transformed when I discovered Marvel Comics as a small child in the early 1960s, the real magic of the exhibition comes from all that original comics art. Seeing the pages that created this universe in this form is a revelation, since so much of the art's detail and its bold, energetic lines were lost in the muddy reproduction of old comic books printed on cheap pulp paper. Among the work here is the only surviving page of original art from the very first Marvel comic book, Marvel Comics #1 from 1939: the last page of the Sub-Mariner story by Bill Everett, one of the greatest artists of the first wave of comic book creators, whose signature character, Prince Namor, would come to life on the screen in 2022 in Black Panther: Wakanda Forever. But all of the greats are here too, including Jack Kirby, Steve Ditko, John Romita, Marie Severin, Gene Colon, and so many others, along with contemporary creators like Frank Miller and Bill Sienkiewicz. In fact, a short visual essay on one of the exhibition's media tables on Miller's storytelling techniques in his groundbreaking run on Daredevil in the 1980s offers a superb overview of how comics work as a form. For those who want to learn about comics and comics history, this exhibition is a great place to start.
But the presentation of all this art highlights a problem too in the story that the exhibition tells. Because for decades artists like Kirby and Ditko toiled in what was seen as a junk industry, creating seemingly disposable pages at work-for-hire rates. Kirby, for instance, would work 14 hours a day, seven days a week, in a basement studio he called "the dungeon" to pay his bills and support his family, with no ownership of characters he at least co-created which would come to be worth billions of dollars. By contrast though, Stan Lee, who as editor was a salaried employee of his uncle Martin Goodman's publishing company, enjoyed much greater financial security and, as the company's public face, could claim greater credit for the characters' creation. This inequity, which is baked into the history of the American comic book industry, is manifest in the exhibit too in the way it echoes the conventional—and inaccurate—story that Lee was the guiding hand in creating the Marvel universe and that artists like Kirby and Ditko worked to realize and develop Lee's vision, rather than serving as principal architects of that universe themselves.
Not long after you walk into the exhibition, there's a giant display filled with images of Lee and clips of his cameos from the movies, with a much smaller reproduction of Kirby's drawing table right around the corner, in the shadow of Lee's monument. But in what Lee would called "the Marvel method" of producing comic books, artists like Kirby, working from plot descriptions generated in loose conversations which may or may not have been written down, would create finished pages that Lee would add dialogue and captions to later. And given this method, which the exhibition does in fact detail, it's hard to know who was responsible for the creative choices in almost any given issue. With all this in mind, as much as I enjoyed everything around me, I was bothered by what seemed like the insufficient credit in the exhibition given to Kirby, who co-created the Fantastic Four, Thor, The Hulk, the Black Panther, and so many others, and to Ditko, who co-created Spider-Man and almost surely solely created Doctor Strange.
Still, Marvel: Universe of Super Heroes lives up to its name. Walk past the costumes and the props and the art, through the swirling shapes of Doctor Strange's Dark Dimension, past the life-size statues of Spider-Man, the Black Panther, and others, and you'll feel like you're in another universe. As Stan Lee, who was always a master promoter, might say on the Marvel Bullpen Bulletins page in a 1960s comic, "Face Front, True Believer! This one's for you!"
I thank Mike for sharing his responses to the Marvel: Universe of Super Heroes exhibit. I urge everyone who is interested in comics and superhero narratives to visit this Marvel exhibit while it is still in Storied Charlotte.